Deposition of police chief in charge of referendum crackdown embitters Spanish politics
Minister sacked Guardia Civil leaders after police report linking Covid-19 spread to government permitting Women's Day rally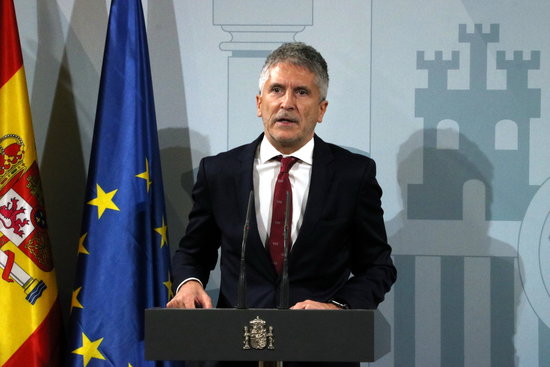 "Exquisite use of proportionality." This is how the man in charge of the 2017 Catalan independence referendum police crackdown described Spanish law enforcement's actions in the Supreme Court trial of the leaders behind the vote in 2019.
The officer, Guardia Civil police colonel Diego Pérez de los Cobos, who denied in court that the police had charged at people and said voters were driven by "hostility and aggressiveness," is now at the eye of a political storm in Spain.
Last Monday, Spain's home affairs ministry sacked him as the top Guardia Civil official in the Madrid region – only a few days after it was known that a police report handed to a judge was linking Covid-19 spread to the Spanish government's decision to let the March 8 International Women's Day protest go ahead.
Subsequently, Pérez de los Cobos' second-in-command stepped down and the third highest-ranking officer was also sacked within days.
This enraged Spain's right-wing opposition parties, who accused the home affairs minister, Fernando Grande-Marlaska, of being behind a police "purge."
The minister defended the move by saying he had "lost confidence" in Pérez de los Cobos and that it was part of a "reorganization" of the Guardia Civil.
Leaked sensitive document
Yet, on Tuesday, a leaked home affairs ministry document revealed that the colonel was sacked for "not reporting on the progress of Guardia Civil investigations and actions in their operational framework and as judicial police, for information purposes."
Shortly afterward, the three main Spanish right-wing parties, Vox, People's Party, and Ciudadanos, demanded that Marlaska step down immediately. "This is very serious," said PP leader Pablo Casado. Far-right Vox went as far as accusing the Spanish government of being "criminals."
As this episode unfolds, tension between the government and opposition in Spain is also increasing, to the point that the PP spokesperson in Congress, Cayetana Álvarez de Toledo, accused Vice President Pablo Iglesias of being the "son of a terrorist." The politician's father, who was a member of the antifascist FRAP group during the later years of the Franco dictatorship Franco years, will file a suit against her.
On Tuesday, Álvarez de Toledo reaffirmed her comments.
De los Cobos 'also lied' in referendum report
The Guardia Civil report accused Spain's head of medical emergencies, Fernando Simón – who has been holding daily press conferences on the state of the Covid-19 crisis for three months – of knowing of the seriousness of the outbreak at least three days before the International Women's Day protest, but of having failed to recommend canceling the March 8 rally in Madrid.
Meanwhile, Catalan pro-independence parties have welcomed Diego Pérez de los Cobos' deposition while highlighting the key role his reports played during the 2017 independence crisis.
"[The police reports] are not more false now, Pérez de los Cobos isn't lying more now when he talks about International Women's Day. He already lied when he spoke about reports that led to nine Catalan democrats going to jail and more going into exile," said Gabriel Rufián, MP for ERC in Madrid.
"[Diego Pérez de los Cobos], who we can describe as a genuine criminal, came [to Catalonia in 2017] to suppress and to prepare a great, repressive wave," argued CUP MP Vidal Aragonès.