'Exquisite proportionality': Coordinator of 2017 referendum police crackdown testifies
Diego Pérez de los Cobos says Catalan law enforcement head designed plan that "would not prevent" vote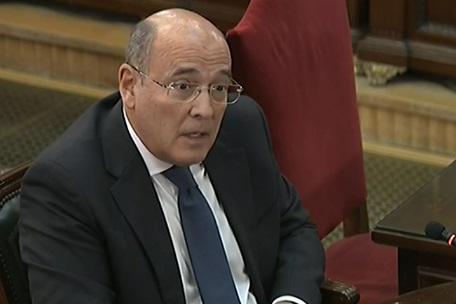 Spanish police officers acted with "exquisite proportionality" when using force to stop the independence referendum on October 1, 2017, Guardia Civil colonel Diego Pérez de los Cobos told the Supreme Court on Tuesday.
"By no means were [referendum] voters the target of the police operation," said Pérez de los Cobos, who was in charge of coordinating the police operation to stop the independence referendum.
"Hostility and aggressiveness" of voters
Testifying in the trial of independence leaders, he added that Spanish police officers gave up on seizing referendum material from polling stations "on several occasions" due to the "hostility and aggressiveness" of people there.
Although a thousand people were injured on the day of the referendum, with Spanish police using hardline tactics to disrupt the vote, Pérez de los Cobos called the operation "meticulous, professional, and proportional."
Pérez de los Cobos described the security meeting held with Catalan officials before the vote as "Kafkaesque."
"We were sitting in front of those who had called [a referendum] deemed illegal and which we had to stop," he said.