Culture minister appears in court over 2017 independence referendum role
Natàlia Garriga is accused of embezzlement and disobedience for setting up call center and website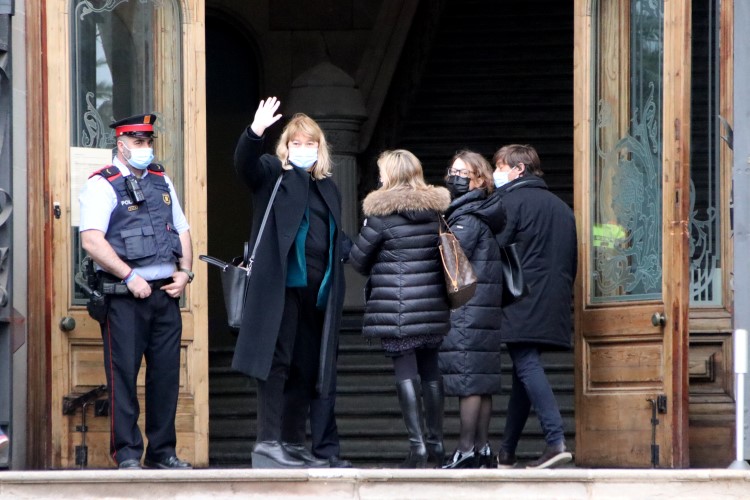 The culture minister, Natàlia Garriga, testified in the Catalan High Court on Monday morning as part of an ongoing case concerning the 2017 independence referendum.
Garriga is accused of embezzlement and disobedience for setting up a referendum call center and website when she was director of services at the vice presidency, economy and finance department.
The current culture minister told the court that the call center in question, attached to the government's Telecommunications and IT Center (CTTI), was also used for parliamentary elections in 2017 and by Covid contact tracers during the pandemic. Therefore, she says, no public funds were embezzled for the referendum. She only answered questions from her lawyer.
Garriga explained that the government was previously lacking the kind of service that the call center provides: a high-tech space able to receive and manage large amounts of calls and data simultaneously. In fact, it currently hosts the 061 emergency number call center.
Multiple trials
Catalonia's independence referendum on October 1, 2017 was deemed illegal by Spain, leading to multiple trials. Nine independence politicians and activists spent around 3.5 years behind bars before being pardoned by the Spanish government.
Garriga's case has been added to the ongoing court investigation into Josep Maria Jové and Lluís Salvadó, senior pro-independence MPs accused of disobedience, breach of official duty, misuse of funds, and disclosure of secrets.
In March 2020, they claimed their right to not answer questions and made it clear to the magistrate in charge of the inquiry that, in their opinion, they are victims of "a general ongoing case against the independence camp."
According to the court, Garriga signed off on four minor contracts of around €17,000 each, making a total of €70,390 plus VAT. The work was to be completed in September 2017. The work carried out before the October 1 referendum cost €1.2m plus VAT. In addition, Garriga allegedly secured several industrial buildings for storing election documents, but she was not questioned about this by her lawyer.
Support from pro-independence camp
Garriga was accompanied in court by a broad spectrum of representatives from within the pro-independence camp.
As well as members of her own party, Esquerra, MPs from government partners Junts per Catalunya and the far-left CUP also attended.
Parliament speaker, Laura Borràs of Junts, criticized the "political persecution" that "has not stopped" since the referendum.
The president of pro-independence civic group Òmnium, Xavier Antich, also voiced his support for Garriga. "Repression is the mirror reflecting our strength," he said.