Covid-19 might force election postponement, say doctors as decision on delay looms
Electoral authority rejects excluding those over 60 from working in the February 14 vote for health reasons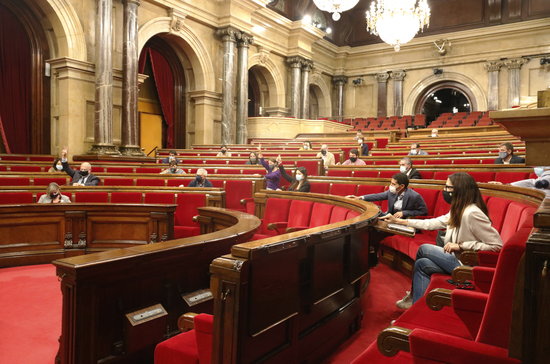 Several top doctors and researchers on Covid-19 have expressed their doubts on whether the February 14 Catalan election should go ahead due to the sharp worsening of the pandemic.
As the deadline for an all-party meeting to decide on a delay (set for January 15) looms, scientists warned in a joint Rac1 station interview that a large number of people will not be able to vote in-person, since they will be positive or will be close contacts of positives.
Indeed, on Monday the uncertainty grew as the health ministry said that the peak of pressure in hospital ICUs due to Covid-19 will be reached a few days before the February 14 election – and this estimation does not take into account the potential impact of the new UK strain.
Although they said on Monday that it is still too early to decide, Dr. Bonaventura Clotet, director of the IrsiCaixa AIDS Research Institute and head of the Infectious Diseases Unit at Germans Trias i Pujol University Hospital, said that if they were to be held "the wisest would be to delay them for some weeks."
Experts also insisted on the need to promote mail-in voting. The head of preventive medicine and epidemiology of Vall d'Hebron hospital, Magda Campins, said that allowing mail-in ballots until closer to the day of the election and enabling more polling stations will certainly help ensure that everyone votes.
"I think the curve will still increase in the coming weeks," she said, adding that the full impact of New Year and Three Kings day are not yet fully visible.
Indeed, voting by mail has been extended to February 12 at 2 pm, and it can be requested until February 4.
Over 60s may act as election workers
On the other hand, Spain's electoral board denied a petition of the Catalan government to exclude those over 60 from being obliged to act as election workers.
Usually, a draw randomly establishes poll workers. It is applicable to all above the age of 18 and under the age of 70, and it is obligatory to take part unless there are essential reasons to abstain.
The Catalan government wanted to avoid the oldest age ranges being exposed to the virus.
Political parties react to possible postponement
An all-party meeting will decide on possibly delaying the vote by the end of the week, with politicians of all stripes agreeing it must only be postponed for health reasons.
Jéssica Albiach, of CatECP, called for a committee of experts to make the decision based on the state of the pandemic, while ERC's Marta Vilalta stated the date should not be "the object of partisan politics."