Council of Europe rapporteur criticizes Spain's handling of exiled and ex-jailed Catalan leaders
Boriss Cilevics against arrest warrants for independence politicians and questioning of pardons for convicted leaders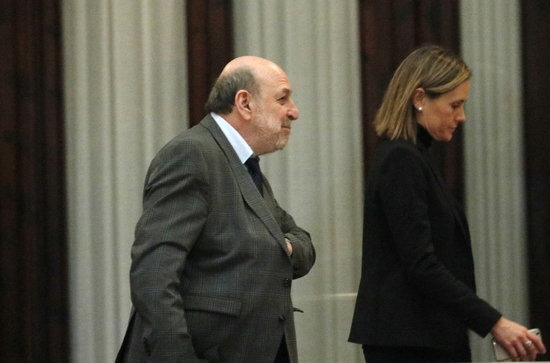 The Council of Europe (CoE) rapporteur on a report about prosecutions of politicians, Boriss Cilevics, criticized Spain's handling of both the pro-independence leaders in exile since 2017 and those who spent over 3 years in jail before being pardoned.
In June 2021, Cilevics finished a report titled 'Should politicians be prosecuted for statements made in the exercise of their mandates?', where he called on Spain to release Catalonia's pro-independence leaders jailed at the time and withdraw the extradition requests for their exiled colleagues.
The paper, also including that Spain should reform the crime of sedition for which those pardoned were convicted, was approved by CoE on June 21, 2021 - the very same day Spain's prime minister, Pedro Sánchez, announced the pardons.
Exactly a year later, Cilevics commented in a subsequent report on whether Madrid is complying with the recommendations accepted by the CoE.
The paper criticized the still ongoing arrest warrants for exiled independence leaders, the pardons for jailed leaders being "questioned," referring to the Supreme Court U-turning its original decision and now considering appeals against Pedro Sánchez's decision.
"It would be very unusual and unfortunate that the pardons, once announced and implemented in order to free the nine jailed individuals, are revoked," his report reads.
The Latvian politician also says it is "unfortunate" that Spain has not reformed the crimes of sedition and rebellion.
Indeed, he states that these amendments to legislation "cannot be delayed much more" since the pardons could be annulled.
European arrest warrants 'make no sense'
As for the European arrest warrants, he said "they make no sense" because those facing them are involved in the same independence referendum judicial case that ended up in the pardoning of their colleagues.
Also, Cilevics calls on the Spanish judiciary to put an end to the rest of independence-related cases. This is a similar stance as those who are in favor of a Catalan state, who defend an amnesty for all prosecuted individuals in cases stemming from the 2017 referendum.
Talking to the Catalan News Agency, the Catalan foreign minister, Victòria Alsina, said that this report "puts a lot of pressure" on the Spanish leader, Pedro Sánchez and reveals "mistrust" towards Spain's democracy.