Corbyn: Johnson 'not likely' to act like Spain in Catalonia to stop Scottish independence push
Former UK Labour leader says way schools teach history "has to change" to avoid racism and thinks historians will not be "kind" to anti-refugees politicians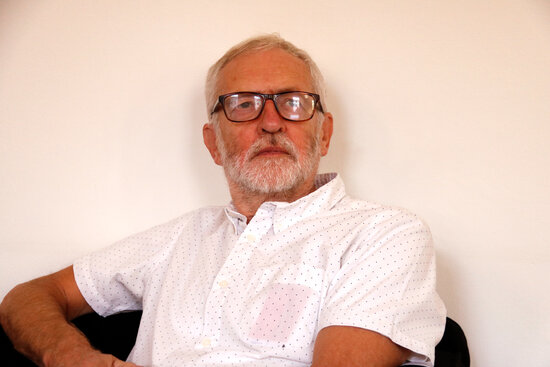 "I am just a random guy," Jeremy Corbyn proclaims when I thank that such a prominent figure accepted to spend some time talking to Catalan News.
The former UK Labour leader is in Barcelona for the second World Peace Congress held this weekend in the city, organized by the International Peace Bureau (IPB) and the International Catalan Institute for Peace (ICIP).
Despite facing his fifth interview this morning, he remains in good shape, fresh and happy to talk to reporters. "I support all journalists," he says, reminding that Julian Assange is facing a new hearing on his extradition case on October 26, when the British High Court will review a judge's decision to reject handing him over.
Corbyn is excited to be in the Catalan capital for the first time in many years, but he nimbly dodges taking any stance in the main debate here in the past decade: the independence crisis.
Catalan crisis: "Mediation only works if both sides want it"
He says he hopes the current talks between Catalonia and Spain are the way out. "I fully recognize the desire and wish of people to express their cultural identity and language," he says, welcoming a "resurgence" of languages such as Catalan, Welsh, Gaelic, Doric, Cornish and Basque after facing "suppression" for a long time – indeed, Spain's dictator Franco banned Catalan in public for 40 years.
"Mediation only works if both sides want mediation to happen. There's no point otherwise," he expresses when asked whether a neutral party is needed in the process.
"Could a prestigious figure like you act as a mediator in this conflict?," I hopelessly ask. He smiles.
"Be careful about bringing in prestigious figures to sort it all out, because everything falls on the shoulders on that unfortunate poor person. If they succeed, everything good, if they fail, they are the ones to get the blame. At the end of the day people have to sort it out themselves."
Another referendum in Scotland?
Corbyn says those involved in the conflict are the ones who should decide whether an independence vote should take place in Catalonia. Yet, moving up north, he says: "I'm not opposed to the second referendum in Scotland but I think there should be a choice which would include a federal process in future."
Taking into account that the UK prime minister, Boris Johnson, is staunchly opposed to a vote, can he imagine the conservative leader acting like Spain did to stop the Catalan independence push in 2017, with police violence and imprisonment of politicians and activists? "No, I don't think this is likely to happen."
"Boris has so far said that he is opposed to another referendum in Scotland, but he may change his mind, he changes his mind in loads of things frequently."
Still talking about UK politics, he expresses his condolences for the murder of MP Sir David Amess: "Personally we got on well. I am shocked and devastated."
Corbyn also reminds Labour's Jo Cox, killed by a far-right supporter, and the conversation moves to right-wing extremists.
"Where far right has challenges, they end up retreating"
"The growth of far right is serious, and the growth of racism in our society is also serious," he says, despite looking on the bright side: "There is also a contravening force too."