Convicted parliament speaker rebukes pro-independence rivals for calling for her to step aside from role
Laura Borràs "outraged" with Catalan president and others who use "attacks from Spain" for their own benefit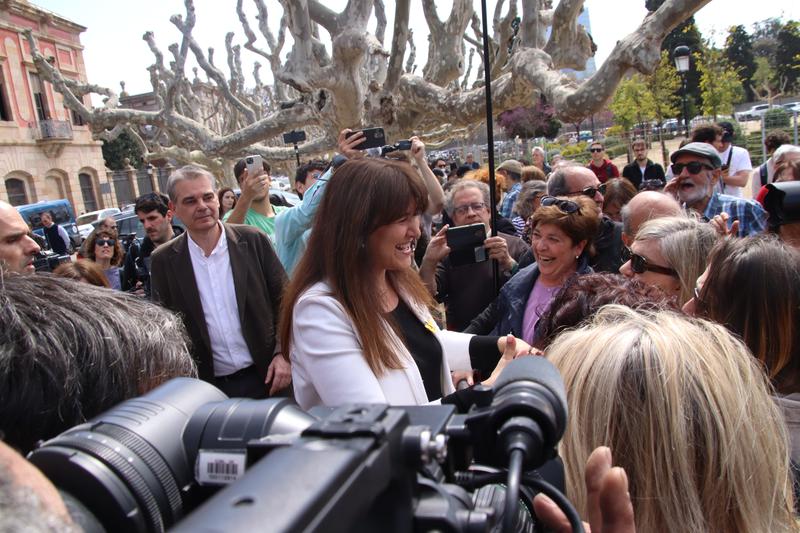 Laura Borràs has sharply criticized pro-independence rivals who called for her to step aside from her role as the speaker of the Catalan parliament following her conviction on Thursday in her corruption trial.
The suspended parliament speaker was given a 4.5-year prison sentence as well as being barred from holding public office for 13 years after she was found to have awarded irregular contracts to friends while she was the head of the Catalan Institute of Letters.
The Junts president has said she is "outraged" at those who use the "attacks from Spain" for their benefit, referring to those such as the Catalan president who called for the parliament to name a new speaker.
"I am outraged by the part of the independence movement that collaborates with Spain from which it wants to become independent and, on the other hand, tramples on the rights and freedoms that it claims for some but that is fine with political rivals," she said in an interview with Catalan radio station Rac 1.
The Catalan president, Pere Aragonès, is a part of the left-leaning pro-independence party Esquerra Republicana, one of the two biggest parties in favor of independence from Spain alongside Borràs' Junts per Catalunya, who left the coalition executive last October.
Borràs railed against political rivals who want to see an end to the interim period in parliament "that they provoked."
The convicted parliament speaker was suspended from her duties by Catalan lawmakers last July when her case was officially sent to trial, and a parliament vice-president has carried out the functions of the president since then.
"Unfair trial"
Borràs believes that her conviction for helping a friend get public contracts without tenders is another example of "repression" against the independence movement.
Reacting to the Catalan high court's decision on Thursday outside the chamber, she said she had an "unfair trial" because magistrates were not impartial.
"Judges are at the service of Spain's unity," she said in a statement without accepting questions from the press.
"I have been able to prove my innocence before the court, but this has not been enough to avoid the judicial and democratic aberration from Spain."
Future for Borràs
Laura Borràs was suspended as parliament speaker when she was indicted and sent to trial – it is now likely that in the coming days, she is ousted from her parliament seat as well as her position as speaker.
If she is obliged to end her stint as speaker, the position will be vacant and a successor will have to be appointed.
Borràs was backed by a number of MPs and officials from her party, Junts, outside the parliament. Former Catalan president Quim Torra also joined to show his support and told the press that pro-independence parties should leave the post vacant.
"No one succeeded me as president nor as MP when I was ousted," he said, referring to his own disobedience sentence for failing to remove a poster supporting pro-independence jailed leaders from the government headquarters.