Congress closer to approving budget after Esquerra rejects complete amendments to bill
Pro-independence party reached agreement with Spanish government in exchange for Catalan quota in audiovisual law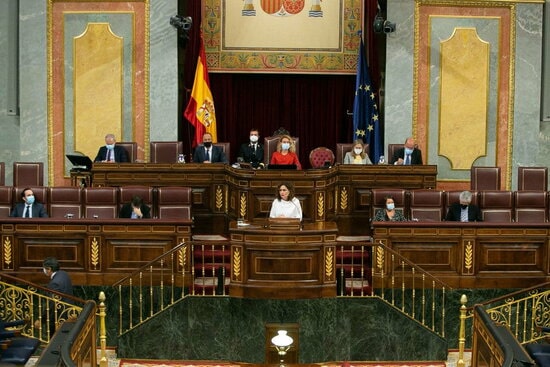 Spain's Congress is one step closer to approving the 2022 budget after Catalonia's left-wing pro-independence party, Esquerra Republicana (ERC), voted against the complete amendments to the bill put forth by a number of opposition parties.
Just under a week ago, Esquerra agreed to not pursue a total amendment to the budget in exchange for a Catalan-language film and series quota on online streaming services in Spain's yet-to-be-approved audiovisual sector law.
As part of the deal, 18 million euros "transferred immediately" for grants managed by the Catalan government, while ERC and the Spanish government said they would "continue to work towards" having Catalonia oversee the targeted basic income as is the case of the Basque Country — the cabinet's agreement with the Basque Nationalists (EAJ-PNV) was also key to overcoming this first hurdle.
188 MPs from the Catalan government's senior coalition party, Spain's ruling Socialists and Unidas Podemos as well as the Catalan PDeCAT, the Basque Nationalists, EH or Más País rejected the amendments to the entirety to the bill put forth by Junts per Catalunya (JxCat), the conservative People's Party, and far-right Vox.
Another 156 MPs voted in favor of them, including those from Esquerra's junior partner in Catalonia's government, JxCat, as well as far-left pro-independence CUP, while one person abstained.
The lower house now has until the end of 2021 to approve the bill, which will be subject to minor amendments and will also have to be greenlighted by the Senate.
Ongoing ERC-JxCat disagreements
As has been the case on occasion between the parties in Catalonia, ongoing ERC-JxCat disagreements came to the fore during Thursday's congressional debate on the 2022 budget bill.
Gabriel Rufián, Esquerra's spokesperson in Madrid, accused Junts of not understanding his party's more conciliatory stance because they have "been living on Twitter for a long time."
Junts MP Míriam Nogueras retorted by stating that her party "didn't give up its votes in exchange for nothing."
Both politicians agreed, however, when it came to criticizing what they called the Socialists' "haughtiness" and "arrogance."