Catalan-speaking territories come together to defend language in audiovisual sector
Growing concerns over lack of quotas for minority tongues in law regulating streaming platforms such as Netflix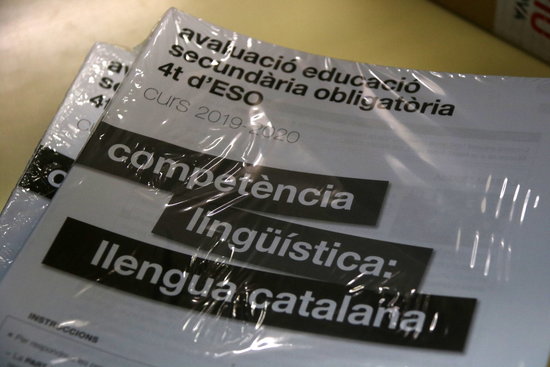 Three Catalan-speaking territories have come together to stand up for their shared language in the audiovisual sector.
The governments of Catalonia, Valencia and the Balearic Islands committed on Thursday to request Spain to include quotas for Catalan in the new law Madrid is preparing to regulate streaming platforms such as Netflix.
One month ago, Catalan officials accused the Spanish government of "failing to promote linguistic diversity" following reports that the draft bill would not include any mandatory quotas for minority languages like Catalan, Basque, or Galician.
Pending approval by Spain's Council of Ministers, the draft law has so far failed to meet the demands of Barcelona.
The minister of the presidency of the Catalan government, Laura Vilagrà, said last month that setting no special protection for minority languages could be "lethal," and demanded setting a 30% compulsory quota for films and series in Catalan of the 30% quota for European productions.
In a study conducted by the Audiovisual Council of Catalonia (CAC) in 2020, the number of movies and series available in Catalan on Netflix's catalogue account for approximately 0.3-0.5% of the total.
On Friday, the Catalan president, Pere Aragonès, said that "protecting" Catalan in the upcoming audiovisual law is a must before discussions over approving Spain's 2022 budget can begin.
The leader made these remarks in a separate meeting with the president of the Balearic Islands, Francina Armengol of the Socialist party, who are the senior partner in the Spanish coalition government.
Promoting Catalan among Youtubers and influencers
The alliance between Catalonia, Valencia and the Balearic Islands aims to go beyond the audiovisual sector in defence of the language: the language policy heads of each territory agreed to enforce strategies to promote Catalan among young people, especially among creators of content, such as Youtubers and influencers.
They also want to resume introductory courses of Catalan for those European university students who spend some time in any of the areas as part of an exchange programme.
The three-way meeting on Thursday in Barcelona is part of an agreement started in 2017 for which Catalonia, Valencia and the Balearic Islands would cooperate to boost their shared culture and language. The next forum will take place in Valencia in March 2022.
How to learn Catalan
For information on how to learn Catalan, have a listen to our recent podcast on the topic and also our special report on it: