Ciutadans head during motion of no confidence: president backs 'radical separatists'
Vote set to fail in Parliament with backing only from Ciutadans and People's Party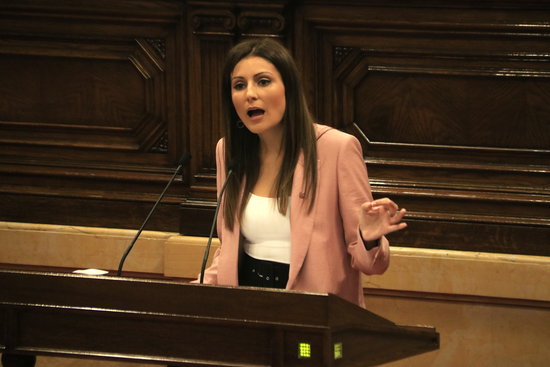 Ciutadans leader in Catalonia Lorena Roldán took to the stand in Parliament during the morning session of Monday's debate prior to the vote of no confidence against Catalan president Quim Torra, which is set to fail as it is only supported by Cs and the People's Party.
After lambasting Torra for not bothering to speak to the MPs in attendance and for instead sending in government spokesperson Meritxell Budó to give a speech, Roldán went on to expound upon her grievances against him and his government.
Key themes among her criticisms of Torra were, according to her, the discrimination faced by Spanish speakers, "racism" amongst Catalan nationalists towards Spaniards or the way in which the government's quest for independence has been its main guiding force.
"Radical separatists"
Roldán also described the supposed fear felt by unionist Catalans given the arrest of "radical separatists who had plans to carry out terrorist attacks in Catalonia," which she claims Torra has supported and "applauded."
After describing what she believes to be wrong with the current government, Roldán elaborated on her proposed political program were she to become president of Catalonia.
First and foremost, Roldán mentioned the Ciutadans plan to put a halt to the independence movement, although she also said her party would focus on a number of different issues.
Some of her proposals were plans to fund better health care, improve education to create equal opportunities for all students by making education available in both Catalan and Spanish, as well as to address Barcelona's supposed "crime wave" that has also affected tourists, and to bring business back to Catalonia, which according to her left as a result of the push for independence.
Fernández: Torra's government is one of "incompetence, institutional disrepute, and contempt for half of Catalonia's population."
Aside from Cs, the also unionist Catalan People's Party is the only other party to back the motion against Quim Torra.
Alejandro Fernández of PPC has used the motion of no confidence debate as an opportunity to specify the reasons for which his party is against Quim Torra and his pro-independence government, namely their "incompetence, institutional disrepute, and contempt for half of Catalonia's population."
According to Fernández, MPs should, as such, vote in favor of the motion because of Catalonia's "problem with the quality of its democracy."