Catalonia's National Day: Everything ready for another historic day
On the 11th of September, Catalonia commemorates the day when it was finally defeated by the troops of absolute king Philip V in 1714. That day Catalonia stopped being recognised as a nation and lost its self-government. Since 2012, mass demonstrations have been added to the commemoration of this historical day and have become known worldwide as rallies that measure Catalans' feelings and political demands. This year, the Catalan National Assembly (ANC) and Òmnium Cultural, the two main civil associations behind the last pro-independence mobilisations on the 11th of September, have organised actions to take place in five different cities all over the territory: Barcelona; Salt, in Girona; Berga, in Central Catalonia; Lleida; and Tarragona. Under the motto 'A punt' ('We are ready'), the demonstration aims to symbolise that Catalonia "is ready to achieve the republic".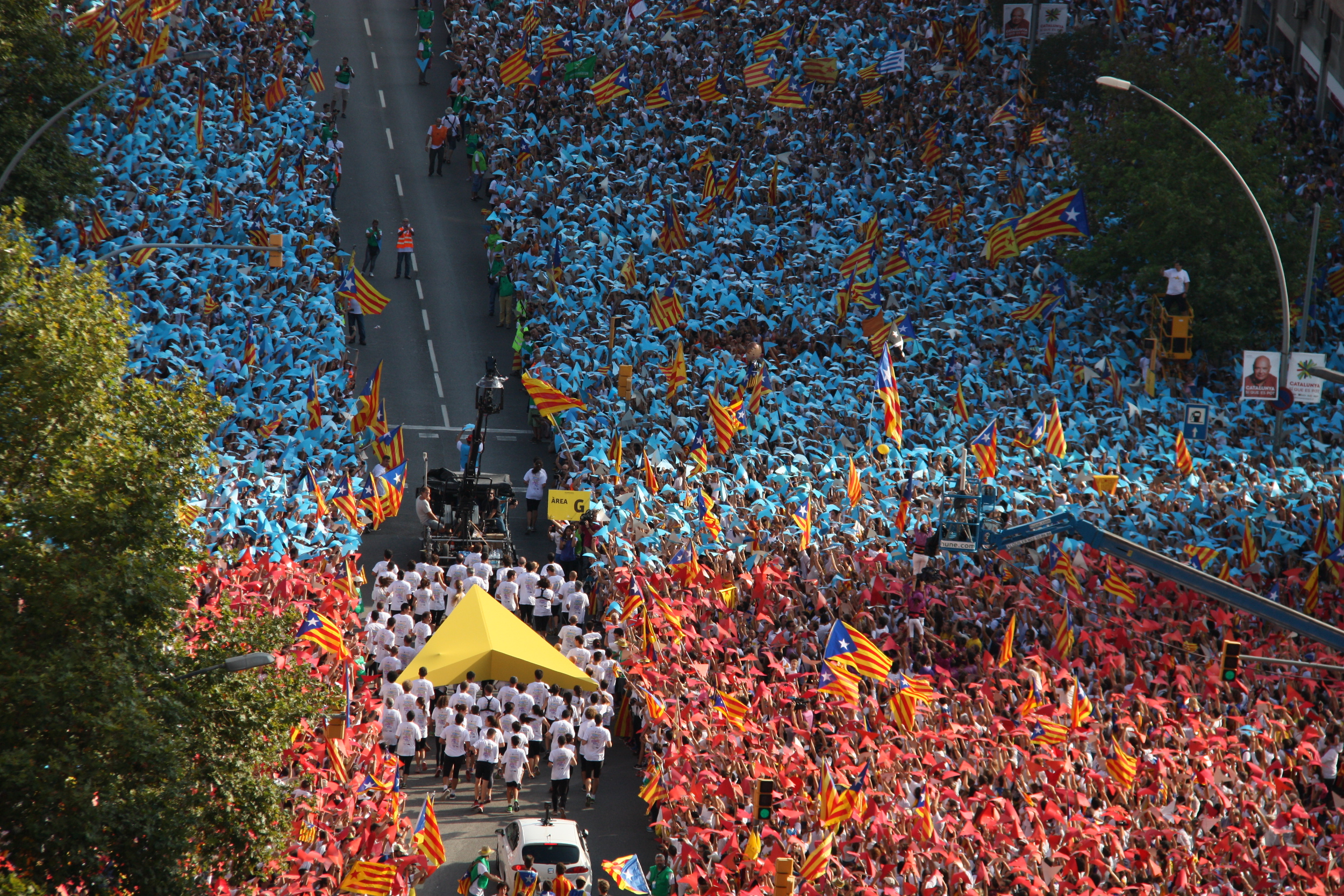 Barcelona (CNA).- Catalans are called to hit the streets again this Sunday to celebrate Catalonia's National Day and reclaim Catalonia's independence, as has happened since 2012, when millions of people pacifically demonstrated in Barcelona. According to the two main civil organisations behind these massive mobilisations, the Catalan National Assembly (ANC) and Òmnium Cultural, nearly 350,000 people have already registered to take part in some of the events, which this year will be held in five different cities all over the territory: Barcelona, Salt, Berga, Lleida and Tarragona. As opposed to what has happened for the last four years, the current Catalan President, Carles Puigdemont, will this year attend the mobilisation. The Parliament's President, Carme Forcadell and Barcelona's Mayor, Ada Colau, have also confirmed that they will take part in the demonstration.
ANC's President, Jordi Sànchez and that of Òmnium Cultural, Jordi Cuixart, admitted that they would like for this Sunday's mobilisation "to be the last one" but they didn't venture to say if this will actually be the case. Even so, they have called for the demonstrations to be "proof of unity" and to "culminate" the pro-independence process.
Catalan President to attend the demonstration for the first time
Catalan President, Carles Puigdemont, will be the first in this position to attend the pro-independence rally while holding office. Puigdemont, who already took part in the demonstration while he was Mayor of Girona and President of the Association of Municipalities for Independence (AMI) will join the mobilisation in Salt, the closest city to Girona. "Salt is where I would have gone if I were still the Mayor of Girona", Puigdemont explained and added that "politicians are the least important on that day, it is civil society which will play the most important role".
Parliament's President and Barcelona's Mayor will also be present
The President of the Catalan Chamber, Carme Forcadell, who was one of the most visible figures responsible for the last massive pro-independence demonstrations on Catalonia's National Day, confirmed that this year she will also attend the mobilisation. She stated that since 2012 Catalan society has "unequivocally" expressed its collective will and called for people to celebrate Catalonia's National Day "in their own way" but "in freedom", as happens "in every country in the world". "This country will be what its people want to be and what they express on the streets", she said. According to her, "the citizens are those who move the country forward and push the politicians so that they can achieve the common goals" and predicted that they "will continue to push in order to achieve a freer, fairer and more democratic country".
Forcadell's relationship with the last five years' massive demonstrations held in Catalonia on the 11th of September is especially close, since she is a founder and former president of the ANC and held this position until 2015.
Barcelona's Mayor, Ada Colau also confirmed her attendance at the demonstration. She explained that last year she couldn't make it because she had "recently taken office", since the local elections were held in May.
Colau, whose position regarding Catalonia's independence has sometimes been assessed as ambiguous, bids for a reform of Spain in order to articulate a federal State in which Catalonia could have more competences and autonomy. However, she has repeatedly insisted on her support for holding a binding referendum in Catalonia for the citizens to decide its political future. Indeed, Colau confirmed several times that she voted 'yes' to the 9-N symbolic consultation, which asked the citizens if they wanted to become a new State in Europe.
A "claim for unity"
Colau's decision is in line with the organisers' invitation to all those political forces which support the idea of holding a referendum on independence and those who condemn the Spanish State's attitude regarding Catalonia's political process to join the mobilisation. Òmnium Cultural's President, Jordi Cuixart, called for "all democrats in Catalonia" to take part in the 11th of September's events. He particularly welcomed "all democrats who understand that the Spanish State is giving up on defending Catalans' interests and that this is an anti-democratic act" and that it is "cutting the citizens' social and national rights". "Independence is an instrument not a goal and therefore we call on all democrats to take part in the demonstration", he added.
Moreover, ANC President Jordi Sànchez aims for the mobilisation to be a "claim for unity". "It will represent the unity that the sovereigntist movement is calling for at the moment, the unity which is being demanded and which is required to culminate the process towards independence", he stated.