Catalonia and Baden-Württemberg agree to develop green hydrogen projects
German Freudenberg Group to invest €10m in automotive parts factory in Catalonia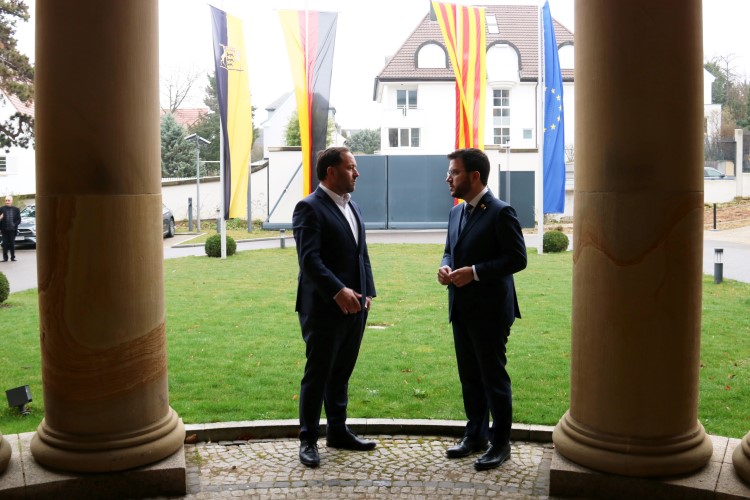 The governments of Catalonia and Baden-Württemberg have agreed to create a working group to develop green hydrogen projects.
Catalan president Pere Aragonès made the announcement on Wednesday in Stuttgart following a meeting with Winfried Kretschmann, Minister-President of Baden-Württemberg, also attended by business minister Roger Torrent.
On the first day of a two-day visit to Germany, the Catalan president also announced a €10m investment from German company Freudenberg to open an automotive components factory in Catalonia.
"Energy sovereignty"
Following the meeting with Kretschmann, Aragonès highlighted Catalonia's important role in distributing natural gas in Europe, mentioning the regasification plant at the Port of Barcelona and his hopes for work on the MidCat gas pipeline to be renewed, "to contribute to the energy sovereignty that Europe needs."
Kretschmann was self-isolating due to Covid-19 and had to attend the meeting remotely, with the Catalan delegation being welcomed in person by Baden-Württemberg state secretary Florian Hassler.
The two delegations agreed on the need to strengthen the ties that have existed for more than 30 years, with Aragonès citing the Four Motors for Europe project as an example.
Aragonès and Hassler also reaffirmed Catalonia and Baden-Württemberg's commitment to address the refugee crisis caused by the Russian invasion of Ukraine.
€10m factory
Aragonès also announced an investment of €10m from the German company Freudenberg to open an automotive components factory in Catalonia.
The president and business minister met with representatives of the Freudenberg Group at their headquarters in Baden-Württemberg on Wednesday.
Freudenberg is a global technology group with 48,000 employees worldwide. It currently has five production plants in Catalonia, employing 650 people.
The construction of the new 6,500 m2 plant in Parets del Vallès, just north of Barcelona, will begin soon, replacing an older factory. It will be "highly robotic and digitized," according to Torrent and will operate without the use of fossil fuels.
The company expects the new premises to be operational by 2023, and say that the number of jobs will remain the same. The investment project is supported by Catalonia Trade & Investment (ACCIÓ).
Two-day visit
The Catalan delegation is on a two-day visit to Germany to "expand and strengthen existing economic ties."
It began on Wednesday morning with a trip to IBM's quantum computing facilities at the Fraunhofer research center. Quantum System One, launched in 2021, is the first quantum computer in Europe open to various research centers working in the field of quantum computing.
On Thursday Aragonès will be in Berlin, where he will visit the Zentraler Omnibusbahnhof bus station – now housing a welcome hub for Ukrainian refugees.
He also has other work meetings scheduled in the German capital, some of which will address the proposal to kick start the MidCat pipeline.