Catalonia assumes presidency of Four Motors for Europe
Group of four European regions focus on "reconstruction" in wake of current crisis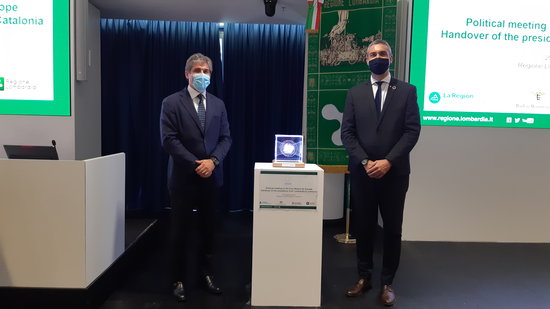 Catalonia has assumed the presidency of 'Four Motors for Europe', a network of highly industrialized European regions that cooperate on economic and research matters.
Together, the four regions – Auvergne-Rhône-Alpes (France), Baden-Württemberg (Germany), Lombardy (Italy), and Catalonia – account for approximately 9% of European economic output, according to the group's website.
At the handover ceremony held in Milan on Friday, foreign affairs minister Bernat Solé said that Catalonia wants to play an "important role" in the "reconstruction" following the crisis caused by Covid-19.
He said the government is already "sharing expertise" and "good practices" with other European regions to try to overcome the crisis.
"We will continue to work to ensure fundamental values such as equal opportunities and individual and collective freedoms," Bernat added, while also reiterating the government's commitment to the objectives contained in the UN's 2030 Agenda for Sustainable Development.
Luca Bellizzi, the Catalan government delegate in Italy, also took part in the event, in which Catalonia took over from Lombardy as president of the association.