Catalan president won't attend Spanish Constitution jubilee
Quim Torra argues country "wants to create independent republic," while leader of opposition says he is "allergic to rights and freedoms"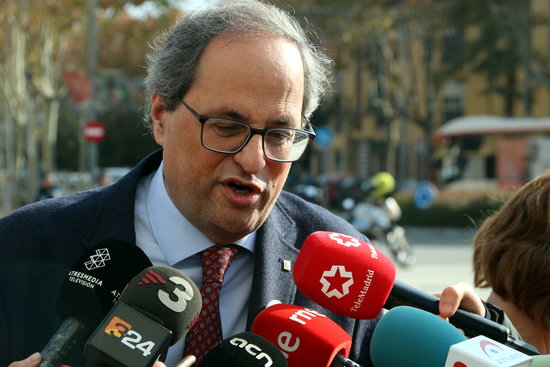 The Catalan president, Quim Torra, will not attend the Spanish Constitution 40th anniversary events on December 6.
He argued that Spain's Carta Magna has become "a prison for the freedom of speech and for the capacity to decide for Catalans."
"The Catalan people has clearly said that it wants to overcome Spain's legal framework with the creation of a Catalan independent republic," he added on Friday in a letter to Spain's lower and upper chamber speakers and delegate in Catalonia.
According to Torra, the state is interpreting the 1978 constitution in a "restrictive, closed-minded, old" way, and also one that "perpetuates injustice."
Constitutional Court, against referendum
Spain's Constitutional Court has repeatedly banned any initiative regarding a referendum on independence in Catalonia in the past few years on the grounds that the Carta Magna does not allow it.