Catalan president Torra tests positive for coronavirus
Head of government will continue working confined in official residence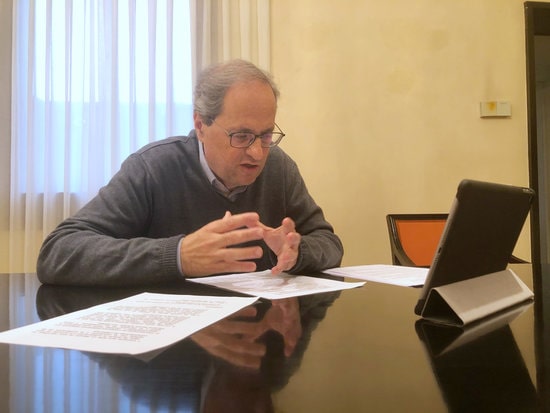 Catalan president Quim Torra has tested positive for coronavirus.
He announced the news in an official statement released Monday at 2:30 pm after experiencing symptoms including a cough and fever.
Torra said he will continue working from Casa dels Canonges, the official presidential residence, next to Catalan government headquarters, where he has been since Sunday.
In his message, he called on citizens to follow authorities' advice and to maintain set safety measures to avoid the spread of the disease. The Catalan president, who stated that over a thousand people in Catalonia have already been diagnosed, also predicts that "many more" cases will be confirmed in the coming days.
Torra asked for "civic-mindedness, solidarity, and generosity," insisting that everyone remain in self-isolation at home for the good of others and requesting that the Spanish government approve his lockdown proposal.
Vice president tests positive a day prior
Torra's diagnosis follows that of his vice president, Pere Aragonès, which was announced on Sunday, and who he had been in close contact with.
Aragonès remains in isolation at his home in Pineda de Mar, north of Barcelona, and he is also continuing to work.
Torra and Aragonès are the only two members of the Catalan cabinet to test positive for the virus as of yet.