Catalan president calls on economic lobby to 'help open dialogue' with Spain
Torra also asks for people for and against independence to "work together"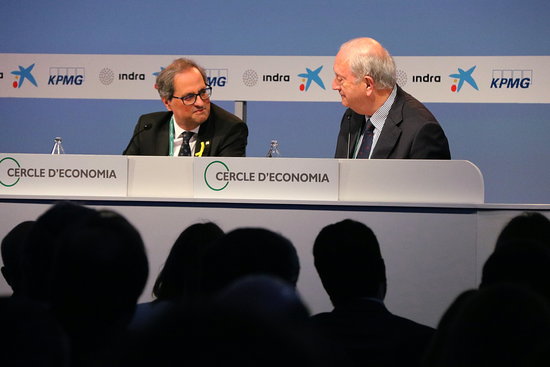 The recently-elected Catalan president Quim Torra has called on companies to "help open dialogue" between Spain and Catalonia.
Speaking at the high-profile annual meeting of the economic policy group, the Cercle d'Economia, Torra also commended the "interesting" and "brave" proposal made by the organization earlier this week.
"Catalan constitution"
On Monday, the Cercle d'Economia proposed a new statute of autonomy for Catalonia to act as a "Catalan constitution" within a Spanish territorial model with "federal characteristics."
At the meeting on Thursday, Torra called on businesspeople to make "the same proposal to the Spanish government."
Origins
The Catalan president also recalled the beginnings of the Cercle d'Economia, which was set up during the Franco dictatorship. He called on the lobby group to "do as it did at its start" and "get involved with the best conditions for dialogue."
Now that the Spanish government, still ruled by the People's Party has greenlighted the ministers put forward by Torra to form the next Catalan executive, things are set to move forward in the country.
Working together
To this end, Torra promised that, as president, he will carry out an "integrating" project for the 7.5 million Catalans in the country.
Despite defending that Catalonia should become a republic, the president admitted that "an important part of the country does not believe that now is the time, does not share the same view, or is not willing, as the Cercle is to present proposals."
"Don't you believe that the moment has come to start a great national country debate?" he asked attendees at the meeting. "We will debate all proposals put on the table."
He also called on people both in favour of and against independence to "work together," stating that "together we are stronger."