Catalan parties file amnesty bill in Spain's congress, but prospects are bleak
Pro-independence groups demand general pardon for "3,000 victims of reprisals," including jailed leaders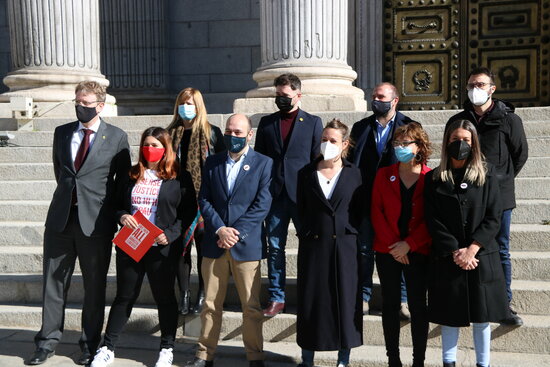 The Spanish Congress registered on Tuesday a draft bill for an amnesty filed by Catalan pro-independence parties, which they claim would grant a general pardon to the "3,000 victims of reprisals" related to the ongoing territorial crisis.
The proposed amnesty seems headed for defeat: in order to get a majority of votes in the 350-seat chamber, the ruling Socialist party would have to vote in favor of the bill that will certainly be rejected by conservatives and the far right. But Spain's president Pedro Sánchez has made it clear that his party will vote against the proposal.
Their coalition partners Podemos, on the other hand, will not be voting against the proposed amnesty, but are yet to specify whether they will abstain or vote in favor of it. Jaume Asens, an MP from Catalonia and the party's spokesperson in Congress did, however, express skepticism at its chances of success, describing the bill as "destined for failure."
The left-wing government in Madrid is considering other alternatives, such as granting presidential pardons to the nine politicians and high-profile activists convicted over the 2017 push to hold a referendum and break away from Spain, with prison sentences ranging from 9 to 13 years. Another option would be to legally reform the crime of sedition for which they were convicted.
But none of these proposals is certain to come into fruition, and even if they did, they would only benefit the top leaders of the independence movement, leaving dozens of lower-profile cases unresolved.
The largest pro-independence grassroots organization in Catalonia, Òmnium Cultural, has documented 2,850 cases of people prosecuted in relation to the independence push, including those who helped organize the unauthorized referendum in 2017 or protesters who blocked roads or occupied the Barcelona airport.
With Òmnium's president Jordi Cuixart held behind bars for over three years, vice president Marcel Mauri traveled to Madrid to defend the amnesty bill, which he says could be passed if there were sufficient "political will."
Òmnium's calls were echoed by the pro-independence parties that filed the draft bill. "If the Spanish government truly believes that repression was a mistake, it should back our amnesty law to address this mistake," said Montse Bassa, an MP for Esquerra and the sister of imprisoned politician Dolors Bassa.
"Spanish parties have the opportunity to say repression, prison, and exile were a mistake, unworthy of a full and consolidated democracy," said Míriam Nogueras, an MP for Junts per Catalunya (JxCat), the party created by former Catalan president Carles Puigdemont after fleeing to Belgium to avoid incarceration.
As was to be expected, the conservative and staunchly anti-independence People's Party has already made it clear that they will be voting against the bill. "An amnesty is not possible in a democracy like Spain," the leader of the opposition, Pablo Casado, tweeted.