Catalan parliament demands EU chamber to ban Pegasus spyware
Political parties want to address Catalangate espionage case at continental investigation committee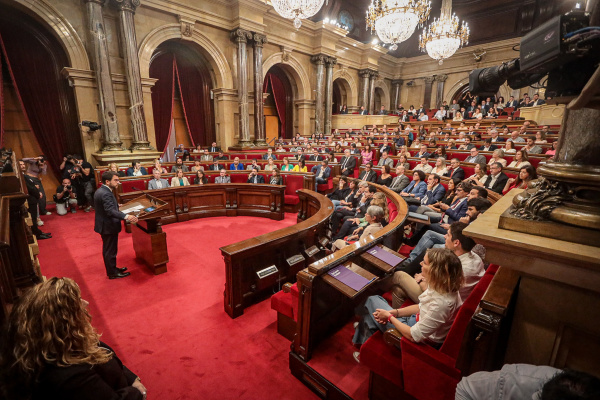 The Catalan parliament will ask the EU chamber to ban the use of Pegasus spyware and other similar technologies in all of the Union's member states.
Most MPs greenlighted a parliamentary motion brought forward by the pro-independence parties Esquerra Republicana (ERC), Junts per Catalunya (JxCat), and CUP, hand-in-hand with anti-austerity En Comú Podem (ECP) group on Wednesday.
With the motion approved, Catalan politicians will request the European Committee of Inquiry to "investigate the use of Pegasus and equivalent" software. Three MPs will address the Catalangate espionage case in the session scheduled for November 29.
The move comes a few months after the University of Toronto research group Citizen Lab and The New Yorker reported on April 18 that over 60 pro-independence figures' phones were targeted using this software.
After approving the parliamentary motion, the European Parliament will have to confirm whether or not the Committee is willing to allow the three Catalan MPs to speak about the espionage case.
The four Catalan parties want the European Parliament to greenlight an initiative to urge the European Commission to completely and immediately ban the use of this kind of software.
One of the other requests from members of the Catalan parliament is for the continental chamber to establish mechanisms to control and sanction countries that allow the production and commercialization of spyware, such as Israel or NSO Group for creating Pegasus.
Filling the Sink podcast
With Spanish intelligence admitting to having spied on 18 individuals, and senior Spanish figures also targeted separately, the Filling the Sink podcast episode from May 7 examined the legal and political fallout of the incident, and heard from four of those targeted: Elisenda Paluzie, president of Catalan National Assembly, Esquerra MP Meritxell Serret, and lawyers Andreu Van den Eynde and Gonzalo Boye.