Catalan MPs in Brussels resign to secure pro-independence majority
Ministers Lluís Puig and Clara Ponsatí step down as members of the Catalan Parliament, says Together for Catalonia party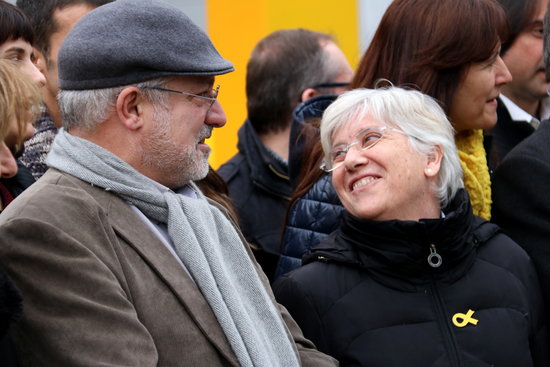 Lluís Puig and Clara Ponsatí, two of the ministers in Belgium along president Carles Puigdemont, are stepping down as members of the Catalan Parliament in order to secure a pro-independence majority at the chamber.
The resignation was first announced by Puig himself via Twitter on Sunday evening and later confirmed by his own party, Together for Catalonia. According to Puig, minister Meritxell Serret is leaving her post too. Her party, Esquerra Republicana (ERC), has not confirmed whether or not she is stepping down. Toni Comín, another minister in Belgium, has not made any comments.
La consellera @ClaraPonsati, igual que el conseller @PuigGordi, renuncien a l'acta de diputats per assegurar la majoria independentista al @parlament_cat i garantir la investidura del president @KRLS.

— Junts per Catalunya 🎗 (@JuntsXCat) January 28, 2018
The decision comes a day after the Spanish Constitutional Court ruled that the MPs in Belgium could not vote by proxy in the investiture debate to be held next Tuesday. The Court also resolved that in order to be reinstated as president, Puigdemont must return to Catalonia, hand himself in, and ask for judicial authorization to attend the swearing-in ceremony.
Puigdemont and his ministers face criminal charges for their role in Catalonia's push for independence. After a declaration of independence last October, the Spanish government took over the Catalan administration and dismissed Puigdemont and all cabinet members.
Alleging they did not trust the Spanish justice to offer them a fair trial, Puigdemont and some of his ministers traveled to Belgium. All of those who stayed were sent to prison, and two are still being held behind bars.
Sempre he dit que sabíem com sumar 68 a la sessió d' investidura del MHP @KRLS , demà presento la meva renúncia a Diputat, conscient que amb @ClaraPonsati i @MeritxellSerret fem un acte de dignitat pel nostre país. @JuntsXCat i @Esquerra_ERC ho saben gestionar

— Lluís Puig i Gordi (@PuigGordi) January 28, 2018
In a subsequent election called by the Spanish government, pro-independence parties held on to a narrow majority at the Catalan Parliament. However, without the votes of Puigdemont and the four ministers in Brussels, the pro-independence majority was in danger.
"I've always said that we know how to secure 68 votes in the investiture debate of president Puigdemont," Puig tweeted on Sunday. "I will resign as MP tomorrow, being aware that along Clara Ponsatí and Meritxell Serret we're doing an act of dignity towards our country."