Catalan government up in the air as junior partner contemplates leaving cabinet after VP's sacking
President Aragonès dismissed Jordi Puigneró for not informing him of Junts' motion of confidence proposal in advance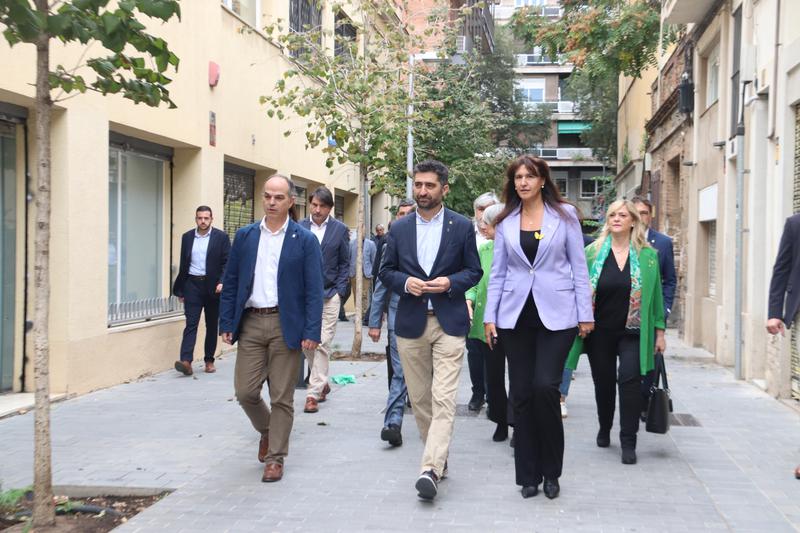 The Catalan coalition government lives its most critical moments since it was sworn in in May 2021. The sacking of junior partner Junts per Catalunya's highest-ranking cabinet member, vice president Jordi Puigneró, has worsened the ongoing crisis.
Catalan president Pere Aragonès announced on Wednesday at 11:15pm the dismissal of Puigneró as he did not inform the head of government in advance of the motion of confidence Junts brought up during Tuesday's general policy debate.
The decision by Aragonès, despite being a "painful" one as he said, has pushed Junts per Catalunya to organize an extraordinary meeting on Thursday at 10am. As of 4pm, no decision has been made, and officials currently expect the gathering to conclude around 8pm.
Wednesday's statement was made after six hours of meetings between him and the rest of the government, as well as with Junts' secretary general, Jordi Turull, Aragonès said that Junts now has to appoint Puigneró's successor and, in the meantime, the post will remain vacant.
Aragonès expressed hope that Junts appoints someone that contributes to "redo the confidence" between the two. During his speech, however, the leader highlighted his interest in "Junts to continue in the government."
But for his junior partner, the decision by the Catalan president was considered a "historic mistake" in an urgently released statement after the president's speech.
"This historic mistake endangers the future of the independence movement," the text continues and explains that Jordi Turull had already mentioned this to the leader of Esquerra Republicana during their long meeting in the Catalan government's HQ.
Around 30 minutes before Aragonès spoke, Puigneró and Turull left the building beside Junts per Catalunya president Laura Borràs, and currently suspended parliament speaker.
What next: Junts deliberating whether to quit government
Quitting government is one possibility, and indeed, all ministers of the political party have offered their resignations if that is what is decided by Junts' officials.
In an interview with Rac1 station on Thursday morning, Junts' secretary general Jordi Turull said that any key decision will have to be greenlighted by party members.
For the secretary general, Aragonès' decision makes them feel "expelled" from the government, and despite Puigneró knowing about the idea of putting forward a motion of confidence, he was not aware if it was finally decided whether to go ahead or not.
Mariachis sent to Junts' HQs
Journalists were amused after long hours of waiting by the sudden arrival of a 3-person Mariachi band at Junts' HQs at around 5 pm.
To the disbelief of those present, the musicians were not able to perform as members of Junts invited them to leave the area.
According to the mariachi band, they were hired by an anonymous person and had been asked to sing 'La Cucaracha'.
Not all Junts united
While the vast majority of the Junts' leadership was gathered in Barcelona, the foreign minister and member of JxCat, Victòria Alsina, traveled to Geneva, Switzerland, to attend a cyberespionage conference.
In fact, Alsina was supposed to be accompanied by now-former vice president Jordi Puigneró before Aragonès sacked him. Both were supposed to speak about the Catalangate espionage scandal at a side event of the UN Human Rights Council's 51st session.
During her visit to Geneva, Alsina said there was still "time" to comply with the investiture agreement between Esquerra and Junts that made Aragonès president and described her trip as a way of "continuing to work for the country."