Catalan election: court keeps February 14 date and rejects delay despite Covid fears
Judges overrule government decree to postpone the vote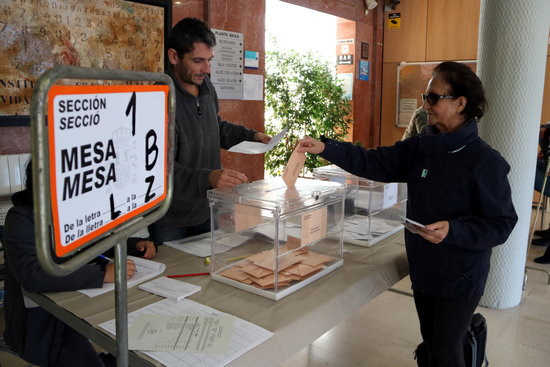 Catalans will vote on February 14. After weeks of uncertainty, when political parties agreed to delay the vote over coronavirus fears, the Catalan High Court has stood by a provisional ruling rejecting its postponement, thus confirming the February vote.
The long-awaited decision comes on the first day of official campaigning, ending concerns that the election period could be suspended halfway if judges backtracked and accepted a government decree postponing the vote.
The Catalan government lashed out at the election delay overruling calling it "shameful," but will not appeal it: "Everything is ready. Polling stations will be safe spaces," officials said.
On January 15, following weeks of worsening coronavirus figures, Catalan parties agreed to delay the parliamentary election set for February. "We can't guarantee both the right to vote and the right to health," said officials.
Legal challenges from minor parties and individuals quickly followed, alleging that the Catalan government (led by interim president Pere Aragonès) did not have the authority to cancel the vote.
Four days after the passing of the adjournment decree, it was put on hold by the Catalan High Court, which had accepted the provisional measures requested by those who disputed the legality of the move.
Most political parties criticized the judicial decision, with the most notable exception being the Catalan branch of Spain's ruling Socialist party, and some even suggested that the Catalan government could pass a new decree to adjourn the election again.
Polls
Polls released in the past week suggest that the pro-independence majority in the chamber at the moment could either be at risk, or could even be expanded.
One survey funded by the Spanish government placed ERC and the Socialists practically neck-and-neck in popularity, with the sum of the pro-independence vote reaching somewhere between 58-71 seats, with 68 needed for a majority.
On Friday, a Catalan government-funded poll suggested that ERC, JxCat, CUP, and PDeCAT combined would win 74-77 seats, easily surpassing the majority. Added to this, this latest poll foresees the pro-independence parties gaining over 50% of the vote for the first time.
The Catalan-funded poll also places the Socialist party clearly in third place, behind Junts per Catalunya, vastly contrasting with the Spanish government-funded poll.