Catalan and Spanish presidents to meet in June after 40-minute 'productive' call
Talks between governments over independence issue could begin before summer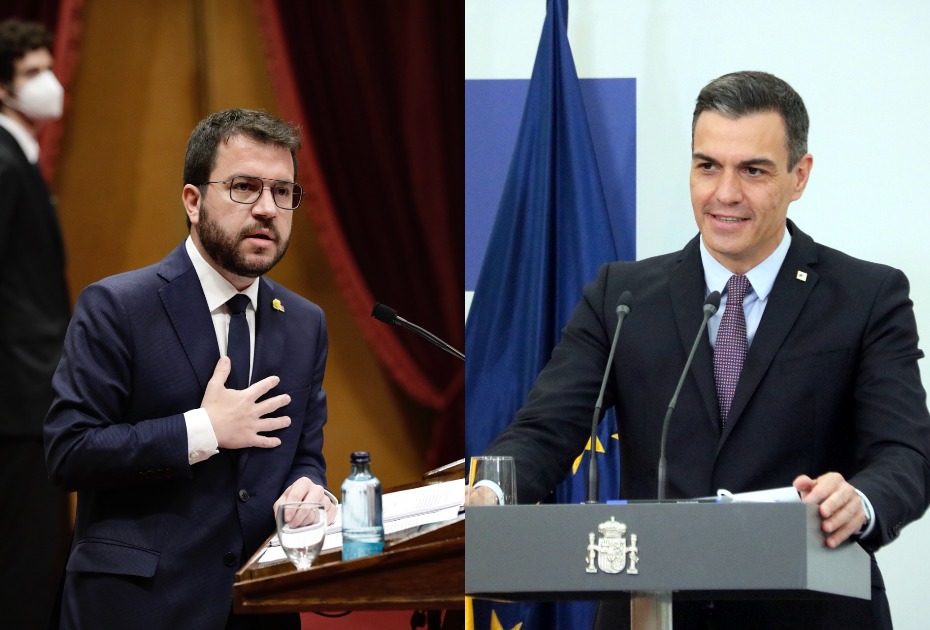 The Catalan and Spanish presidents, Pere Aragonès and Pedro Sánchez, have spoken on the phone for the first time since the former took office, in a 40-minute "smooth and productive" call.
The main agreement stemming from this conversation was to meet in person at the Moncloa, the Spanish leader's official residence in Madrid, at some point in June.
The talks between both cabinets over the Catalan political conflict over independence could begin before the summer.
The head of the Catalan government said last week that conversations must resume before the summer holiday season. Both cabinets only met once in February 2020 and agreed on monthly meetings that never took place due to the Covid-19 pandemic and disagreements over the need to talk with Madrid within the Catalan executive.
Both leaders released a joint statement on Friday afternoon, expressing that they have the shared "aim of moving forward towards overcoming the common challenges through dialogue."
They have also both agreed to "win the battle against Covid-19 and to work towards economic reconstruction, with a special mention to the Next Generation funds."
One of Aragonès' top priorities when he was appointed leader was the need for talks with Madrid in order to persuade the Socialist-led government to accept a self-determination referendum and an amnesty for everyone involved in judicial procedures stemming from the independence push over the past decade.
Yet, he also stressed his eagerness in terms of dealing with the crisis brought on by the pandemic. "With one hand we will beat Covid, with the other we will advance towards the Catalan Republic," Aragonès said on May 20 when he presented his successful bid before the parliament.
His party, Esquerra Republicana, has been prioritizing dialogue ever since the peak of the constitutional crisis in 2017, and recently persuaded the two other main pro-independence parties, Junts and CUP, to back these plans, despite them questioning their results, at least until 2023.
All three came together in May to appoint Aragonès as president and launch the new political term over three months after the February 14 election.