Catalan and Spanish government talks on independence to resume last week of July
Announcement comes following first President Aragonès-PM Sánchez meeting since Catalangate espionage controversy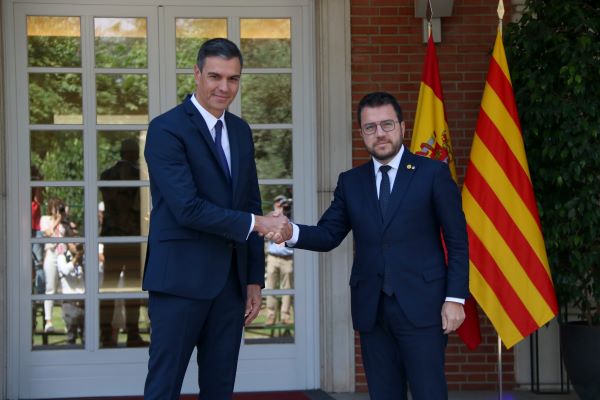 The Catalan government and the Spanish executive will meet during the last week of July to talk about the Catalan independence conflict. This will be their first meeting in 10 months as the last one was held in Barcelona in September.
The in-person negotiation table will take place in Madrid as has been agreed by Catalan president Pere Aragonès and Spanish PM Pedro Sánchez in a meeting held on Friday morning in the Spanish capital, their first formal gathering since the Catalangate espionage scandal was first reported.
Sánchez and Aragonès will not be there
Neither Aragonès nor Sánchez, however, will be in attendance as, according to Spanish government spokesperson Isabel Rodríguez, "they have already been able to have a long discussion about important issues."
"Previous work has been made [ahead of the meeting], and we'll now decide on the agenda and what topics are we going to discuss. But, as you can imagine, we have several topics in motion," Rodríguez said.
"We will intervene in times of difficulty or to facilitate much broader agreements," Aragonès later clarified. "It is a dynamic process."
Spain encourages Junts to participate
"We should represent an ample and cross-sectional majority," Rodríguez said in a press conference after the meeting. "It would be ideal for both coalitions to participate," she added, referring to both the Catalan and Spanish government formations.
Junts, Catalonia's junior partner, however, has taken a more confrontational approach to these meetings and refrained from participating in the last one altogether after it was decided that only government officials and not party members - including the formerly imprisoned independence leaders who have since been released but are barred from office.
Rodríguez also stated that the Catalan president and the Spanish PM had talked about the Catalangate affair, but that it had not changed their view on the matter.
Catalan president: "Positive first step"
Aragonès addressed the press after the meeting, describing it as "positive" and yet "only a first step" towards finding solutions to the conflict.
The Catalan president expressed his "unease" at being targeted with government-grade Pegasus spyware, but also celebrated "Sánchez's commitment to clarifying what happened.
He also stressed the importance of de-judicializing the conflict, but, he said, "until people are allowed to freely decide Catalonia's political future, it will not be able to be resolved."
"We want to be clear that we are far from resolving the [Catalan independence] conflict. Reversing the effects of judicialization is one of the main goals of the negotiation process," Aragonès told the media.
Whether Junts will attend this time around is not clear, although Aragonès did say that he invited them to participate, reaffirming his "conviction to working towards dialogue and negotiations."