Catalan 2020 budget set to be passed on April 24
The first budget plan since 2017 is expected to be passed in the parliamentary session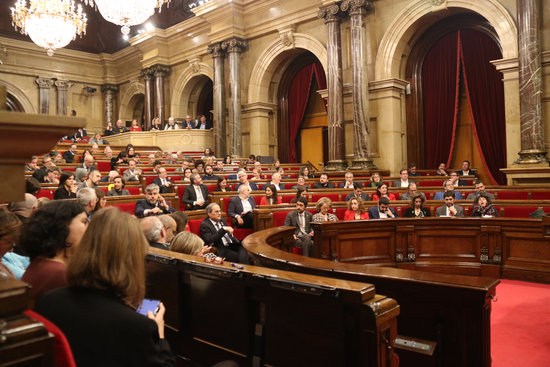 The Catalan parliament is expected to pass the 2020 budget in a plenary session to be held on April 24.
The budget, presented by governing partners Junts per Catalunya and Esquerra Republicana, also received the backing by left-wing Catalunya En Comú Podem, meaning there's expected to be enough votes to pass the first budget the country will see since 2017.
This will be the first plenary session that the Catalan chamber will hold since the state of alarm over the coronavirus was declared. The budgets, the accompanying law, and various decrees passed recently by the Government in relation to crisis management will be voted on.
As a consequence of the pandemic, the parliament bureau has agreed to permit remote virtual voting and voting by delegatation.
The bureau also agreed that the plenary session would take place in a reduced format, with a maximum of 21 members. The speeches at the plenary will be in person.
Increased public spending
The bill foresees an increase in spending of €3.07 billion, taking the €24.4 billion in 2017 to €27.5 billion in 2020.
The government departments that will get the biggest boost in funding should the bill successfully pass are the health department (an extra €908m), the education department (up €819m), and the work, social affairs and families department (€387m).
Meanwhile, the government departments that will see less of an increase in their budgets are the vice presidency and presidency departments, with the digital policy and foreign action departments seeing the biggest rise in funding.
In public spending, health and education are the areas that will get almost half of government spending in 2020, with the former accounting for a total of €9.73 billion of the total budget, or 27%, and with the latter to get €6.69 billion, or 18.6% of the total.
Next comes funding for local institutions, at €5.5 billion, or 15.3% of the total, then infrastructure and mobility at €2.7 billion (7.7%), social protection at €2.2 billion (6.4%), and 1.3 billion, or 3.9% of the total budget, for security and civil protection.
IMF predicts drop in Spain's GDP
The International Monetary Fund (IMF) forecasts a fall of 8% in the Spanish GDP in 2020 due to the crisis caused by covid-19. The new forecast is down by almost 10 points from January, which estimated that the Spanish economy would grow by 1.6%.
Spain, which is also projected to reach 20.8% unemployment by 2020, will thus be the second worst affected European state by pandemic, only behind Italy, where the IMF predicts a fall of 9.1% in the GDP.
Despite the decrease in GDP for this year, the body expects the Spanish economy to recover in 2021 with a growth of 4.3%. Globally, the IMF predicts a fall in GDP of 3% this year and a growth of 5.8% in 2021.