Budget talks leave both sides with contrasting impressions
While economy minister calls meeting "positive," Catalunya en Comú-Podem's parliamentary head is "disappointed"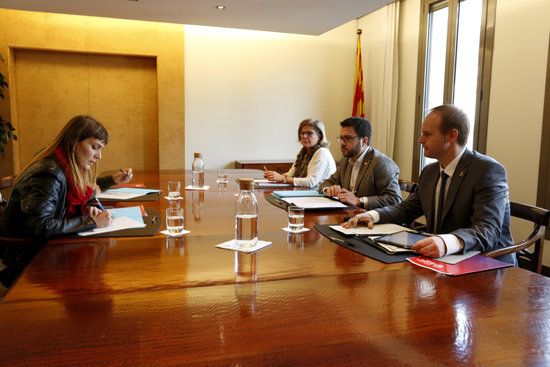 The government took the first steps in looking for support for its 2019 budget on Thursday, with a meeting with the left-wing Catalunya en Comú-Podem party (CatECP) that left a very different impression on both sides.
While CatECP's head in Parliament, Jèssica Albiach, said she was "quite disappointed" with the meeting, the economy minister, Pere Aragonès, said the encounter had a "positive" tone and provided a "good basis" for further talks.
Despite Albiach judging the two sides to be "very far" from agreement, the minister insisted there is an understanding between them on nine of CatECP's ten demands for the budget, such as raising taxes on high earners.
With the refusal of the far-left CUP party - whose votes allowed Quim Torra to become president - to back the spending plan, the government has been forced to seek support for the budget outside the pro-independence camp.
Aragonés and Socialists to meet on Tuesday
With a deal all but impossible with the unionist Ciutadans and People's Party, the stance of the Socialists (PSC) has so far been ambiguous. Nevertheless, the party announced on Thursday that it will meet with Aragonés next Tuesday.
According to PSC, the meeting will serve to explore possible common ground, although they also warned that their priority is seeing the Spanish government's 2019 budget passed with, if possible, the support of pro-independence parties.