Brussels tells Catalan president to 'speed up deployment' of solar and hydrogen power
Recommendations come a day after announcement of Barcelona-Marseille green hydrogen pipeline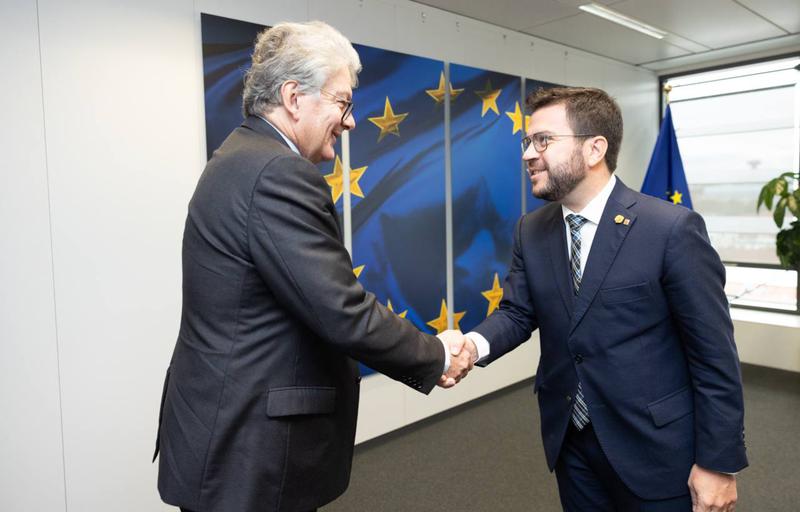 EU Commissioner for Internal Market, Thierry Breton, told Catalan president Pere Aragonès in a meeting on Friday in Brussels that Catalonia must "speed up the deployment" of solar and hydrogen power in order to create a "truly decarbonized and electric" economy.
Breton and Aragonès are said to have had a "constructive discussion" about the Catalan government's plans to promote the microchip industry, as Aragonès had already made public at an event in Barcelona with the heads of the 48 EU Agencies Network members weeks earlier.
This comes a day after Aragonès's meeting with EU Commissioner for Justice Didier Reynders, with whom he discussed the Catalangate espionage affair, as well as of the announcement of a joint agreement between Spain, France, and Portugal to create a "green energy corridor" between Barcelona and Marseille instead of expanding the unfinished MidCat project.
Aragonès said that he is of the view that a "strategic piece of infrastructure" for Europe such as the planned BarMar hydrogen and electricity pipeline should be a "candidate" for EU funding.
According to authorities, it will take up to 7 years to build the new underwater pipeline connecting the Iberian Peninsula to the European energy market. In addition to green hydrogen, it will also initially be used for gas and electricity.
Catalonia's renewable energy goals
Catalonia lags far behind other parts of Spain in terms of renewables, and yet aims to have 50% of all energy consumed in 2030 come from green sources. Currently at around 20%, it could fail to meet this goal due to an overreliance on nuclear power and would need to generate 18 times more green megawatts to achieve carbon neutrality by 2050.
According to the Catalan government's green energy transition plan, Proencat, 2.5% of the territory's area will have to be used to generate renewables in just under thirty years' time, especially as solar panels for self-consumption "will not be enough" to help Catalonia meet its ambitious goals.