President welcomes EU Agencies Network directors to Barcelona: 'Catalonia is your best ally'
Annual meeting held in Catalan capital due to Barcelona-based Fusion For Energy presidency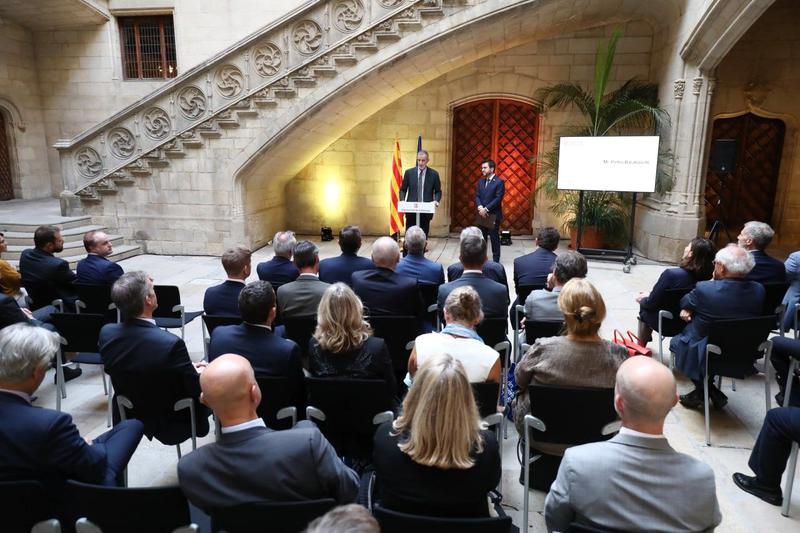 President Pere Aragonès greeted the heads of the EU's 48 agencies at the Catalan government headquarters on Thursday evening, where he stressed Catalonia's commitment to the union.
"Catalonia is your best ally," he said, describing it as "a land of opportunity" and a "strategic" place to boost microchip production and green hydrogen.
According to Aragonès, microchip production is key to digital sovereignty and Catalonia is "willing to do its part" to help the EU achieve this.
He also said that he had proposed the creation of a green hydrogen valley in Catalonia in order to "guarantee the provision of clean energy."
"Catalonia has the know-how, the capacity, and the research environment," for these endeavors, Aragonès argued, citing the Mare Nostrum supercomputer as an example of how the territory has been able to foster scientific progress.
EU Agencies Network meeting
The EU Agencies Network seeks to facilitate collaboration among the 48 entities that support the EU with specific policies, from health or food safety to the reception of refugees or the fight against climate change.
Barcelona is the site of this year's EU Agencies Network meeting as the rotating presidency is currently held by Catalan capital-based Fusion For Energy. With more than 400 employees and a multi-billion euro budget, Fusion for Energy's mission is to make fusion energy a reality. Fusion energy is considered to be an abundant, safe, and sustainable energy form.
Check out our July 2021 Filling the Sink podcast episode on how the ALBA Synchrotron and the Barcelona Supercomputing Center are key contributors to the global scientific effort.