Belgian judiciary suspends Puigdemont's European Arrest Warrant
Warrant also suspended for former minister Comín as politicians deemed to have parliamentary immunity as MEPs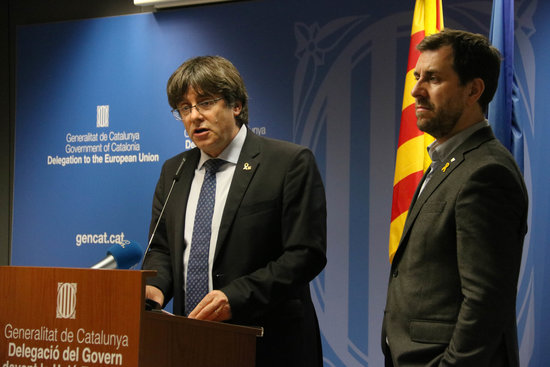 The Belgian judiciary decided on Thursday that it would suspend the European Arrest Warrants issued by Spain's Supreme Court for former Catalan president Carles Puigdemont and former Catalan minister Toni Comín for their role in the 2017 independence bid as it has deemed that they have parliamentary immunity as MEPs, as has been announced in a communiqué released by the former president's office.
The two politicians' arrest warrants have, as such, been suspended but not rejected, and according to their defense team, they will be suspended for as long as they have parliamentary immunity.
Their lawyers also stated that the warrants could be reactivated if the Supreme Court were to ask the European Parliament to withdraw their immunity and if the chamber decided to accede.
European Court of Justice ruling
On December 19, the European Court of Justice ruled that jailed independence leader Oriol Junqueras had immunity from the moment he was elected MEP in May despite being prevented from taking up his seat by Spanish authorities, as were Puigdemont and Comín.
After the ECJ ruling, Puigdemont and Comín, who previously had been barred from entering the European chamber, were allowed to enter the building and were granted temporary MEP accreditation.
The arrest warrant for former Catalan minister Lluís Puig, who also resides in Belgium, has not been suspended and a judge will review his case on February 3.