Arrimadas doesn't rule out agreements with Vox
Cs leader in Catalonia refuses to "define" party as far-right while PP opens door to giving them ministries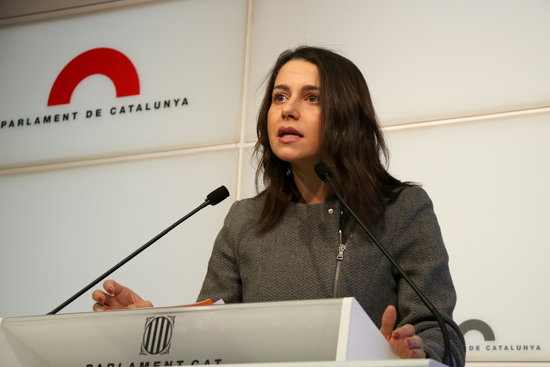 The leader of Ciutadans (Cs) in Catalonia, Inés Arrimadas, refused on Tuesday to "define" Vox as a far-right party and didn't rule out reaching agreements with them in the southern Spanish region of Andalusia.
Vox won 12 seats in the Andalusian parliament on Sunday. The party is openly anti-migrant, wants to do away with laws against gender violence, and advocates suppressing Catalonia's self-government and making pro-independence parties and groups illegal.
The 12 VOX MPs are key for Cs and the People's Party to command a majority in the Andalusian parliament and form a government.
In a press conference, Arrimadas admitted that Cs' preferred option for Andalusia is a "centrist" government led by her party in coalition with the conservatives from the PP. Although Cs came third in the election, after the Socialists (PSOE) and the PP, Arrimadas insisted they are the only party that is growing and should therefore get the regional presidency.
Both the PSOE and the PP suffered losses in the Andalusian election, especially the Socialists, which for the first time in democratic Spain are poised to be out of power in the region. Their leader and current regional president, Susana Díaz, insisted that she still leads the biggest party and urged Cs and PP to speak to her to create a "cordon against the far-right."
Yet, Arrimadas was clear that the Socialists should have no place in the Andalusian government any longer. She said that if the Socialists are "so worried" about Vox's role in a new Andalusian government, they should abstain to allow Cs and the PP to form an executive that would not have to depend on the extreme right.
Asked insistently by journalists whether or not she would define Vox as an extreme-right party, Arrimadas refused to offer a clear answer. "I won't be the one to define them," she said, admitting, however, that they do have "important" ideological differences with her party. "For instance, in Europe we've got Emmanuel Macron's support and they've got Marine Le Pen's," she said.
PP more open to Vox
Meanwhile, the PP argued that it is up to them, and not Cs, to lead a government, and its leader in Spain, Pablo Casado, even opened the door to Vox getting ministries.
"The only clear thing that is beyond question is that Juanma Moreno (the PP candidate) should be president and lead the change in Andalusia," Casado said in a radio interview.
"We'll speak first with Cs and then Vox will have to decide if it adopts a passive strategy, abstaining, or an active one, to participate in the electoral program for the next four years," he added, mentioning possibilities such an "an investiture agreement or a government one."