27,000 have right to vote in French presidential election from Catalonia
Camp Nou auditorium among four polling stations ready for ballots, while mail-in voting not possible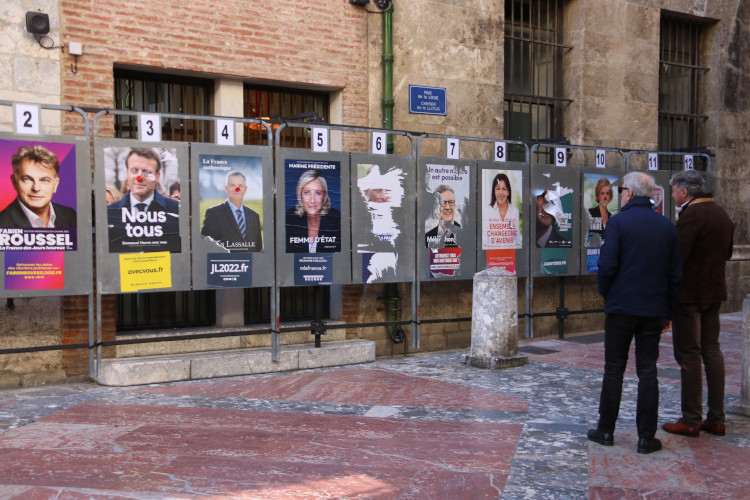 Around 27,000 people have the right to vote in the French presidential election from Catalonia, as four polling stations in the country will open both for the first round and the potential runoff, according to sources of the French consulate in Barcelona talking to Catalan News.
Those willing to cast their ballot will have to go in person to their polling station. The FC Barcelona's auditorium, just outside Camp Nou, will host 12 out of the 15 polling places in Catalonia, and will welcome residents in the whole Barcelona region.
French residents in the Tarragona and Lleida regions will be able to exercise their right to vote in the Lycée Français Marguerite Yourcenar, in Reus, whereas those in the Girona region will have to go either to Centre Cívic Creu de la Mà, in Figueres (those living in municipalities whose postal code starts with 174, 176 or 177) or to Centre Cívic Ter, in Girona (the rest of them).
French nationals living in Catalonia will only have a right to vote if they have previously enrolled in the consulate as residents and they have requested to be in the register of voters – something that they are offered when they enroll in the diplomatic office.
They only have two ways to vote: either they attend the relevant polling station in-person, or they vote by proxy if they have previously followed the previous mandatory administrative procedures to proceed.
In French votes, mail-in voting does not exist, therefore sending a ballot by post is not possible in any case.
The consulate also explains that electors do not have to expect to be sent any paperwork before the voting day as long as they are registered in both the diplomatic office and in the electoral roll. Those registered in the consulate before turning 18 are automatically included in the roll when they become eligible to cast their ballot.
In Spain, people residing abroad have to actively request their right to vote for every election, wait until receiving the ballots via post, and then voting in-person (only permanent residents abroad) or mail-in. This system, known as 'voto rogado' (begged vote), receives widespread criticism by emigrants during every electoral period since they not always receive the ballots in time.
On Sunday, around 100 people will be in charge of the voting day logistics, including workers of the consulate and volunteers within the French community, including members of entities such as Institut Français or French schools.
Every polling place officially needs a president, a secretary, and two other members to run, although this is sometimes "tight" since 1,800 people are eligible to vote in each of them, say the same sources.
There were 36,246 French nationals in Catalonia on January 1, 2021, according to the Catalan Statistics Institute (Idescat), and those who are not registered can only vote in person in their relevant polling station in France, or vote by proxy.
Northern Catalonia, symbol for far right
In Northern Catalonia (Catalunya Nord), a territory administratively in France that belonged to Catalonia since 1659, some people still speak Catalan there and keep some traditions and symbols from before that year.
In there, National Rally's Marine Le Pen is expected to register a good result.
The area's capital city, Perpignan, is the largest one whose mayor is member of the far-right party. Thus, Northern Catalonia has become a symbol of the far right, with rallies of several parties of these ideology including a 3,000-strong one of Le Pen, although the region only accounted for 0.7% of the total number of voters in 2017.
Yet, in its western inland, left-winger candidates may gain ground.