Trial of Catalan police leadership during 2017 referendum gets underway
Josep Lluís Trapero one of four officials facing requested sentences of up to 11 years in jail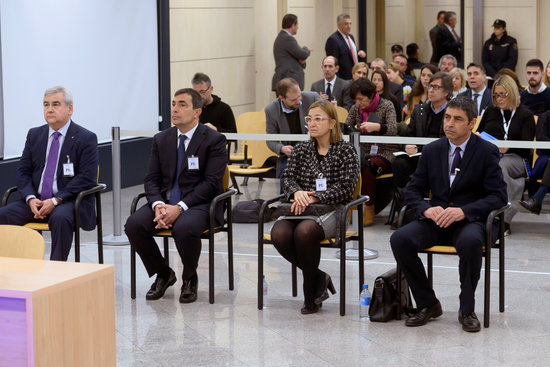 The trial of the Catalan police leadership during the 2017 referendum got underway on Monday morning in Spain's National Court, in the outskirts of Madrid.
The session began with the defenses raising preliminary issues that the judges are expected to consider before the cross-examination of the four officials.
One of the first issues raised was former police superintendent Laplana's lawyer requesting for her client not to attend the full trial – expected to last until March 19 – for medical reasons.
Beginning three months after nine politicians and activists were convicted to sentences ranging from 9 to 13 years for the 2017 referendum, the trial of the former Catalan police leadership, which is accused of colluding in the attempts to bring about an independent Catalonia, will feature among others the former police chief, Josep Lluis Trapero.
Trapero faces 11 years in prison
Trapero, who at the time was the highest ranking police officer in the country until he was removed from his post on October 28 after the government in Madrid imposed direct rule on Catalonia, is accused of rebellion and is facing a potential 11 years in prison.
The trial is expected to go on until March 19, and sitting in the dock alongside Trapero will be the former political heads of the Mossos police, Pere Soler and César Puig, as well as another high-ranking police officer, Teresa Laplana, who is charged with sedition.
While the other former officials are charged with rebellion, the public prosecutor has not ruled out lowering the charge to sedition, especially after the Supreme Court found the independence leaders guilty of sedition rather than rebellion in October.
Guardia Civil chief, the first witness
The witnesses testimony will begin on February 3, with Diego Pérez de los Cobos, the Guardia Civil colonel who oversaw the police operation for the October 1 referendum and who has accused the Mossos of defying the court order to prevent it.
However, the next day, Trapero's second in command at the time, Ferrán López, who was appointed by the Spanish government to take over from his former boss, will argue that the Mossos complied with the court order, and did so with the blessing of De los Cobos.
112 witnesses to testify
Some 112 witnesses will testify, including police officers, politicians and some of the independence leaders convicted in October. Yet, it is thought that former vice president Oriol Junqueras and former interior minister Joaquim Forn will not appear until the end of the trial.
Jailed former pro-independence activist, Jordi Sánchez, will also be summoned to give evidence, as will former Catalan president, Artur Mas, the former in the middle of proceedings and the latter towards the end.