'They are trying to make us scared,' says pro-independence leader
Catalan National Assembly president Elisenda Paluzie reacts to predecessor speaking in court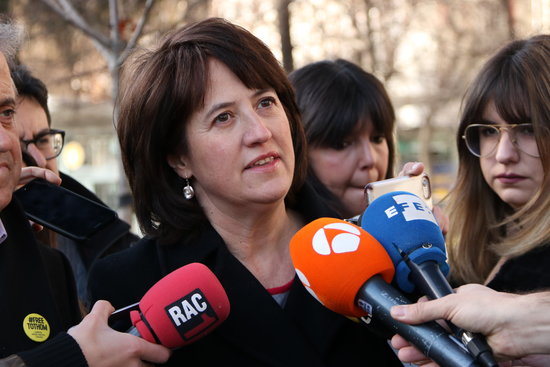 Elisenda Paluzie, the president of the pro-independence Catalan National Assembly (ANC), has accused Spain of attempting to instill "fear" in pro-independence supporters, and said that the prosecutor has put her organisation at the centre of the Catalan trial.
"They are trying to criminalize pacifists and democratic expressions of civil society mobilization," Paluzie said in an interview with Catalan News. Speaking on the morning of the day her predecessor, Jordi Sànchez, faced trial, she described it as "a hard day."
The Catalan National Assembly is a political activism group that seeks the independence of Catalonia and boasts thousands of paying members and volunteers.
Òmnium backs Jordi Cuixart ahead of testimony
Elsewhere Marcel Mauri, the vice president of Òmnium, whose president Jordi Cuixart testifies on Thursday, criticized the King of Spain for his messages to an international congress this week.
Without making specific reference to the Catalan trial, King Felipe VI said that "it's unacceptable to launch a so-called democracy that is above the law."
Mauri said: "He is not doing what he should be doing according to the Constitution. We see it as an irresponsibility that [the king] has this sort of attitude."
Pro-independence parties defend referendum
Marta Vilalta, a spokesperson for Esquerra Republicana, also reacted to the king's address, saying that the referendum was "legal and legitimate."
Also on Thursday morning, the Junts per Catalunya group parliamentary spokesperson Eduard Pujol criticized the "outrageous" manner in which the Supreme Court continued session until three and a half hours later than the provisionally scheduled finishing time last night.