Spain's attorney general: Catalan trial example of 'institutional normality' and 'legality'
2017 referendum leaders received prison sentences of 9 to 13 years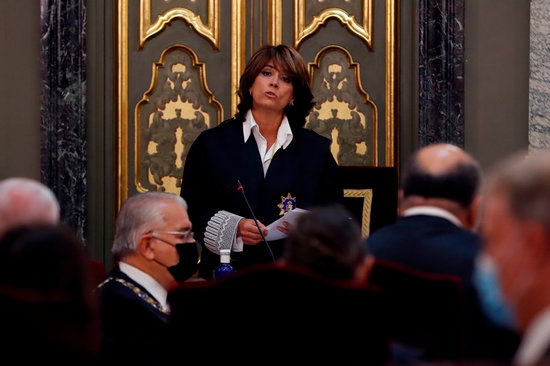 Spain's attorney general, Dolores Delgado, said on Monday that the trial of the Catalan independence leaders, held last year, was an example of good practice.
In the event officially inaugurating the judicial season, the head of the public prosecutor's office and former Socialist minister said that the legal institutions involved in the case against the 2017 referendum leaders "were an example of institutional normality and commitment to their duties and legality."
Delgado also emphasized that the fact that the hearings were televised served as an additional "guarantee" of their transparency.
When the trial ended, the public prosecutor requested 7 to 25 years behind bars for sedition and misuse of funds for all 12 officials in the dock although the Supreme Court ended up sentencing nine of them to 9 to 13 years for sedition and misuse of funds.
Also on Monday, Spain's governing party, the Socialists, committed to modifying the crime of sedition in the criminal code, to "comply" with the agreement that saw Pedro Sánchez once more picked as president.
For the Socialists' organization secretary and also minister José Luis Ábalos, Spain's criminal code has to be adjusted to the "requirements that are applied in Europe."
Judicial authority's mandate expired for two years
Meanwhile, the president of the CGPJ, the Supreme Court and the Spanish judiciary's ruling authority, Carlos Lesmes, said that it "a serious anomaly" that the CGPJ's membership remains unchanged.
Two years ago, CGPJ members' mandates expired, but they remain in their posts because Spain's main political parties, the Socialists and the People's Party, have failed to agree on new appointments.
Lesmes also added that Spain's constitution states that CGPJ member mandates are supposed to last five years – he and other members have had their positions since 2013.