Prison requested for officers accompanying Puigdemont when arrested in Germany
Prosecutor asks for three-year sentences for attempting to "avoid execution of European arrest warrant"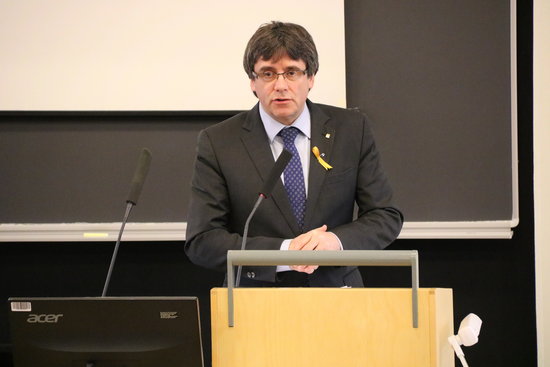 Three-year prison sentences have been requested by Spain's prosecutor for two Catalan police officers who were accompanying the former Catalan president, Carles Puigdemont, when he was arrested in Germany on March 25, 2018.
The Catalan leader in exile was in Finland when Spain's Supreme Court issued a second European arrest warrant against him.
On his way back to his residence in Brussels from the Scandinavian country by car, Puigdemont was arrested soon after crossing the German border, which led to an extradition procedure that was partially rejected by a German court and withdrawn by Spain.
When detained, the politician was accompanied by four people: two friends and two off-duty Catalan Mossos d'Esquadra police officers.
Spain's National Court opened an investigation into all four of his companions but shelved the cases against Puigdemont's two close contacts, Josep Maria Matamala and Josep Lluís Alay.
Case against police officers
As for the two officers, the prosecutor announced on Thursday that three-year sentences are being asked for them.
"The accused wanted to help Carles Puigdemont return to Belgium and avoid being detected anywhere where the execution of his European arrest warrant could take place."
According to the National Court's prosecutor's office, the police officers traveled from Brussels to Helsinki to escort Puigdemont before the BKA police caught up with them in Germany on their way back.
In February, the National Court proposed trying them, arguing that "despite being police public servants and having full knowledge of the fact that Puigdemont faced a European arrest warrant, they helped him try to abscond."
In a separate case, the Catalan high court (TSJC) is investigating the current Catalan home affairs minister, Miquel Buch, and a police officer, Lluís Escolà, for a security service that Puigdemont allegedly had while abroad.
Both testified last week, although Escolà rejected answering any questions.