Police officers and foreign experts to testify in week seven of Catalan trial
Court case to focus on protests during September 20 raids of government buildings, and testimony of foreign experts at October 1 vote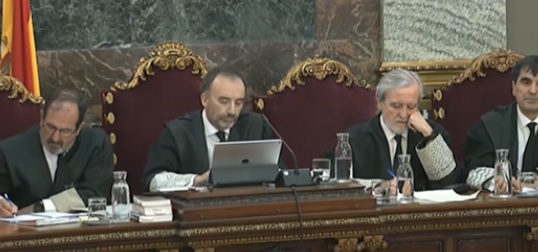 The trial of Catalan independence leaders in Spain's Supreme Court entered its seventh week on Monday, with witness testimony from two Guardia Civil officers overseeing the police raids of official buildings on September 20, 2017.
The protests on that day, in which Spanish police raided public buildings, offices and homes aiming to halt the preparations for the October 1 independence referendum, in large part forms the basis for the charges of sedition and rebellion against the leaders on trial.
A Guardia Civil officer who was in charge of a raid on the Catalan finance ministry was the first to testify on Monday morning, with a total of 30 members of the police force -and five officers from the Catalan police- due to take the stand as witnesses over the coming days.
Head of judicial police to testify
Also on Monday, the court will hear testimony from the head of the Guardia Civil's judicial police in Catalonia, Daniel Baena, whose declaration was adjourned after the defense asked for more time to prepare. Baena's deputy is due to take the stand in the afternoon.
Both high-ranking police officers will be asked about the conduct during the protests of Catalan National Assembly head at the time, Jordi Sànchez, and the leader of the Òmnium Cultural organization, Jordi Cuixart, who are on trial charged with rebellion.
Thursday and Friday will see most of the Spanish and Catalan police officers called to the stand as witnesses, in particular a lieutenant colonel of the Guardia Civil who led the investigation of the government's preparations for the October 1 independence referendum.
Testimony from foreign experts
Before that, on Wednesday, it will be the turn four international visitors who were in Catalonia to witness the October 1 vote, beginning with German MP Felix Von Gründberg, who will be followed by the head of the Hague Centre for Strategic Studies, Paul Sinning.
Also due to testify this week will be the spokeswoman for the team of international visitors, Helena Catt, who was in Catalonia for the referendum, as well as MP in the Quebec parliament, Manon Masse.
While the prosecutors say these visitors were in Catalonia in an observation mission, the defenses deny it.
Two Catalan police officers who were injured during the September 20 raid of the home of Joan Ignasi Sànchez, advisor to former governance minister Meritxell Borràs, are also due to take the stand anonymously on Wednesday.