Activist Cuixart in court: 'The right to vote in Catalonia is achieved by voting'
Pro-independence civic organization Òmnium's head defends call for "democratic tsunami" in court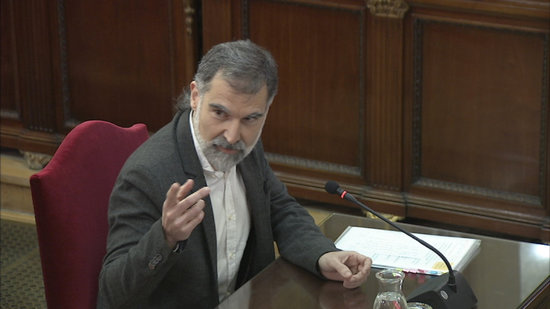 Activist Jordi Cuixart defended the "right to vote" in the Supreme Court on Tuesday, as week three of the trial of Catalan independence leaders got underway in Madrid.
"The right to vote in Catalonia is achieved by voting," the head of the Òmnium civic organization told the court, adding: "What we did on October 1 [holding the referendum] was an exercise of collective dignity."
Charged with rebellion, Cuixart is the 11th defendant to take the stand in the trial, and precedes the former parliament speaker, Carme Forcadell, who will bring the testimonies of the prosecuted leaders to an end.
In his testimony on Tuesday, Cuixart also made a defense of democracy, telling the prosecutor: "Criticize me for wanting a 'democratic tsunami'… We want more democracy, for citizens to be heard, not only for Catalonia, but for Spain."
"Democratic values are above the rule of law. It is an obligation of citizens to defend them."
Cuixart's priority, "denouncing rights" and "solving conflict"
Duing the cross-examination, Cuixart also said: "My priority is not leaving prison, but denouncing the violation of rights and freedoms in Catalonia and Spain," adding that "solving the ongoing conflict" is also among his priorities.
October 1 referendum, "the biggest exercise of civil disobedience in Europe"
The independence referendum "was an exercise of civil disobedience, which is not punishable with 500 days of pre-trial jail or a 17-year prison sentence," said Jordi Cuixart on the October 1 vote, suspended by Spain. "Civil disobedience is a tool for societies to move forward socially."
"All Spaniards should be proud of the October 1 referendum, the biggest exercise of civil disobedience in Europe".
"The pain that we feel towards the disproportionate [Spanish police] violence on October 1, 2017 will last generations," he added. Some 1,000 people were injured as a result of the law enforcement operation, according to the Catalan health department.