Nearly half of health workers at risk of mental health issues due to pandemic
Over 9,000 professionals surveyed in studies conducted by Barcelona institute, with 3.5% experiencing suicidal thoughts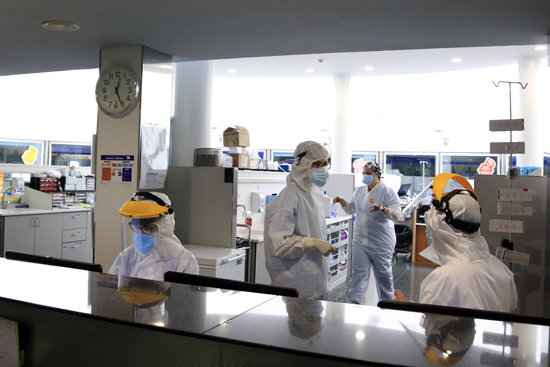 A study conducted by the researchers at the Hospital del Mar Institute of Medical Investigations (IMIM) and doctors from the Hospital del Mar, found that 45.7% of medical professionals in Spain are at a high risk of mental health issues due to the effects of the pandemic.
The report called 'Mindcovid' anonymously surveyed 9,138 professionals, from 18 different centers (including eight in Catalonia) identifying depression, anxiety, and panic attacks as the main symptoms experienced.
An earlier study released in October discovered that 1 in 4 medical professionals had considered quitting due to the physical and mental health impacts of the global health crisis.
The first wave of the pandemic has been incredibly detrimental to mental health, with 28% of the general population of Catalonia suffering from anxiety.
At the start of the second wave, mental health associations in Catalonia pushed the Catalan government for more action to help this second pandemic, seeing as 28.8% of the general population had suffered from anxiety.
Crisis point in medical centers
"The data from the first wave of the pandemic show a prevalence of incapacitating mental health problems in Spanish medical staff a lot higher than what had been hoped," Jordi Alonso, principal author of the study, and director of the epidemiology program at IMIM-Hospital del Mar.
This comes after the WHO announced in October that most countries did not have the capacity to deal with the oncoming mental health crisis due to the consequences of the pandemic and confinements.
The authors of the study urged following closely those with risk factors, such as previous mental health issues, high exposure to coronavirus patients, those infected by the virus, those whose families were affected, as well as those who found themselves in two-week quarantine periods.
Measures have also been taken in medical environments such as Hospital del Mar, and many others, who have set up emotional support groups to help staff with these issues.
Those who were found to be most susceptible were nursing assistants with two-thirds suffering high levels of risk, followed by nurses with 50% of personnel falling in the high-risk category.
Suicidal thoughts
Another worrying statistic from the authors' second study are the rates of suicidal thoughts, with 3.5% of staff identifying these thought patterns, with 0.1% attempting suicide during the first wave.
Researchers urged that these statistics and data proved the need for contagions to be stemmed in order to keep hospital pressures down.
"It worries us because this is a group that has to face an emergency, we need them, and we cannot allow ourselves the luxury to have people suffering who are also having to work," explained Alonso.