More Guardia Civil officers testify in Catalan trial
On Tuesday, members of Spanish law enforcement described protesters ahead of referendum as "aggressive," while defenses accused them of giving false testimony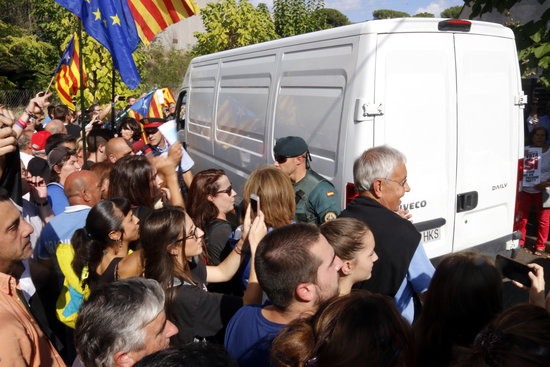 Ten Spanish Guardia Civil officers are preparing to testify at the Supreme Court on Wednesday morning in the trial against 12 pro-independence leaders over the 2017 referendum.
Four of their colleagues gave testimony on Tuesday, and due to the length of their cross-examination, another three were postponed until Wednesday morning, when seven more were already due to answer questions from the prosecutors and the defenses.
By the end of Thursday, 24 Guardia Civil officers are expected to have spoken.
The third police officer who took the stand on Tuesday said that the protesters taking part in rallies against the police raids to public buildings ahead of the referendum were "aggressive," "violent" and had "faces full of anger." He even said he saw images of "terror" on September 20, 2017.
Defenses accuse officer of giving false testimony
The defenses accused him of giving a false testimony, and showed faces of disbelief when he described the events, especially when he tried to describe "flags of Òmnium [pro-independence group]" which he allegedly saw at the protests.
This came before a fourth officer testified that on referendum day, Catalan police were passive and some voters turned aggressive and even tried to run over Spanish police officers.
'War and guerrilla scenarios'
The first witness stated they found a document entitled 'War and guerrilla scenarios' while raiding the former finance secretary's home and office. Meanwhile, the second testified that jailed activist Jordi Sànchez "wouldn't allow" police cars to reach the economy ministry for the raids.