La Mercè 2018: what to do
From fire running 'correfocs' to afrobeat, this year's Barcelona-wide festival has something for everyone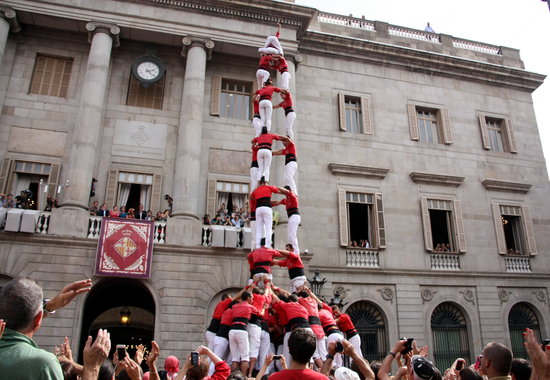 Barcelona's own 'Festa Major' sees the city transformed into a festival site, with concerts all over the place (courtesy of BAM) and street performances (courtesy of MAC). There are also numerous cultural activities to get engaged in. This year, the guest of honor is the city of Lisbon, but expect to discover acts from all over the world – with a focus on both the feminine and the continent of Africa.
Feeling a bit hungry…or thirsty? The Mostra de Vins i Caves de Catalunya, taking place on the side, showcases some of the best wines and caves the country has to offer. There will also be stands and foodtrucks throughout the city, most notably in the Ciutadella Park.
And, of course, let's not forget the cultural heritage of Catalonia: spectacles from 'correfocs' to human towers, dances from the 'sardana' to 'bastoners,' and of course, parades filled with traditional 'gegant' and 'nans' statues.
Meanwhile, the recurring lightshow and video projection on the Barcelona City Hall will take place all four days, with a special pyrotechnics show on Friday and Saturday to kick off the event. On Monday, several museums and monuments will open their doors for free, the day of the iconic end-of-show fireworks in Montjuïc.
And while as usual, many of the festivities will be taking place on the beach or in downtown Barcelona, there is an ongoing effort to de-centralize the festivities, with some activities happening in Nou Barris and by the Besòs river.
THINGS TO DO
Correfocs | Saturday 20h30 | Plaça d'Antoni Maura
'Correfoc' means 'fire run' in Catalan, and while this flaming tradition can be seen at many local festivities, that in La Mercè is by far one of the biggest. Participants dressed like devils cavort through the streets to percussion music shooting fire and fireworks – so if you plan to get close, make sure to wear appropriate clothing!
Lightshow at the Barcelona City Hall | Every night | Plaça Sant Jaume
Every year, the Barcelona City Council is alight with a moving story. This year, the projection is 'Oda des del Cel' ('Ode from the Sky') based on poem by author and literary critic David Castillo and work by visual artist Fausto Morales and José Vaaliña. Show times are 21h15 on Friday, 20h30 for Saturday, 22h30 on Sunday, and 20h45 on Monday.
Human Tower Day | Monday 12h30 | Plaça Sant Jaume
One of the most breathtaking and riveting Catalan traditions, human towers (or 'castells,' meaning 'castles') come out in full force in the city hall square in Barcelona on Monday. Often times each neighborhood or micro-neighborhood will have their own group, so for the capital-wide celebration you'll see performers of all ages from all around the city.
International Pyrotechnic Festival | Friday and Saturday night | Passeig Marítim de la Barceloneta
If you're looking to spend some time at the beach, you're in luck – it wouldn't be a Barcelona festival without fireworks, and the two late nights for La Mercè see collaboration between Lisbon and Lebanon, with the 21st annual International Pyrotechnic Festival put on by Grupo Luso Pirotecnia and Nazih Tabbara Fireworks. The show kicks off at 22h00.
Piromusical | Monday 22h00 | Avinguda Reina Maria Cristina
After a one-night break from the boom, the crackle, and the colors, fireworks are back – this time to say farewell to this year's event. Marrying music and pyrotechnics, this tradition is not to be missed. This year, the performance will focus on the Portuguese theme, may 1968, and the 50th anniversary of jazz in Barcelona.
Museum Open Doors | Monday all day | Everywhere in Barcelona
While there are various opportunities to enjoy museums and monuments open doors in Barcelona, Monday provides yet another day of culture free of charge, when cultural centers in the city open their doors within certain hours. The list includes MUHBA, CaixaForum, MACBA, MNAC, Barcelona Maritime Museum, Botanical Gardens, Joan Miró Foundation, the Mies Van der Rohe Pavilion, the Music Museum, CCCB, Pedralbes Monastery, the Frederic Marès Museum, Sant Pau Art Nouveau Site, Montjuïc Castle, CosmoCaixa, Olympic Sports Museum Joan Antoni Samaranch, Design Hub Barcelona-Les Glòries, Funeral Carriage Museum, Can Framis Museum, Blue Museum, and the Firefirighters Space.
38th Catalan Wine and Cava Tasting | Every day | Marina Port
If you're a lover of wine and cava – this is your moment to give all of them a try, as there are various parts of Catalonia that are known for these two beverages. There is a wide array of activities, as well, including presentations, guided tastings, and of course, all the food that goes with the drinking: cheese, charcuterie, and more.
Traditional Dance | Saturday 11h00 / 18h00 | Avinguda de la Catedral / Plaça Sant Jaume
One of Catalonia's most cherished traditions is its dancing, which can be seen throughout the festival – but especially, on Saturday morning for MercèDansa. Here you can see public recitals for everything from the traditional 'sardana,' to the more rhythmic 'bastoner,' including the Galop de la Mercè, a dance created especially for the festival.
SPACES TO CHECK OUT
La Ciutadella: street performances, dance, circus arts, music
Barcelona's main city-center park will play host to a wide variety of street art performances, form bluegrass, to interpretative dance, to theater, to circus, and much more. Art installations can be found throughout – including, after dark, one on the pond. On Saturday, the park will also have resources for the hungry: food trucks!
Montjuïc Castle: circus arts
If you want a more family-friendly environment – or, if you love circus arts, the Montjuïc Castle is a must-see for one and for all. The Fossat de Santa Eulàlia is where most of the performances will take place, including areal arts, juggling, music, and much much more!
FRIDAY MUSIC
Special Carillon Concert | Friday 21h00 | Palau de la Generalitat
Put on by the Palau de la Generalitat (Catalonia's government headquarters), this is where the carillon show takes place. And if you've never heard a carillon, it is a once in a lifetime experience – a large, chiming, musical instrument made employing 23 bronze bells. The principal carillonist, Anna Maria Reverté plays a concert this year focusing on Portuguese music.
Seun Kuti & Egypt 80 + Orquestra Baobab + Nakani Kanté | Friday starting 22h00 | Moll de Fusta
Held at the Barcelona Port, here you can find African sounds, fusion, and beats, including the Seun Kuti (1h30am), son of iconic afrobeats pioneer and human rights activist. Nakany Kanté's musical stylings take to the stage first at 22h00, followed by Senegalese Orquestre Baobab (23h45).
Cuca Roseta | Friday 22h30 | Avinguda de la Catedral
If you've ever been to Portugal, you may have heard of Fado, the typical Portuguese songs of heartbreak and longing. Cuca Roseta brings a new generation of musicians to the forefront of this genre, and kicks off the Mercè with homage to Lisbon.
BAM: Maisha + Kokoroko + Meute | Friday starting 21h45 | Plaça dels Àngels
What is most known as the MACBA square in Barcelona becomes filled with music for the opening night of la Mercè. In chronological order, this includes spiritual jazz Maisha, Kokoroko and their wind section, and Meute the German techno marching band.
SATURDAY MUSIC
La Iaia + Love of Lesbian + Fundación Tony Manero | Saturday starting at 21h30 (cont'd Sunday) | Bogatell Beach
To hear some iconic and well-loved Catalan music, you can head down to the beach in Sant Martí to hear three great examples. Starting at 21h00, concert-goers can enjoy bands La iaia, Love of Lesbian, and Fundación Tony Manero, with the shows beginning at 21h30.
OBC Mercè concert | Saturday 21h00 | Seu del Districte de Nou Barris
The Barcelona Symphony and Catalonia National Orchestra (OBC) begin their season right here, at La Mercè. This is one of the events that is furthest out, but take a look, it will surely be worth it!
Dr. Calypso | Saturday 22h00 | Moll de Fusta
Behind the ska music scene in Catalonia and Barcelona you'll find Dr. Calypso, a band which is also stepping down from the music scene after this last tour of ska, reggae, and more after decades of performances.
SUNDAY MUSIC
BAM: Marina Herlop + Marina Gallardo + Témé Tan + Cléa Vincent + Side Chick |Sunday 17h30 | Antiga Fàbrica Estrella Damm
Sunday during the evening already brings a variety of music including experimental tunes from Barcelona, atmospheric pop from Càdiz, Belgian instrumental Congolese beats, French synth pop, and lastly, high-voltage garage glam.
Ferran Palau + IDER + Warmduscher | Sunday starting at 21h00 | Plaça de Joan Coromines
Right behind the MACBA museum you'll find more of La Mercè's music, which here includes Barcelona's own Ferran Palau pop artist, London duo IDER with their electronic stylings, and post-punk English Warmduscher.
BAM: Les Filles de Illighadad + Lineker e os Caramelows + Pongo | Sunday starting at 22h00 | Rambla de Raval
Nigeria, Brazil, and Angola are the stars of the performance on Sunday on the Rambla del Raval, bringing audiences everything from a mix of Tuareg and Western rock, to soul, to African root and urban pop mix.
Dr. Prats + Els Catarres + Gertrudis | Sunday starting at 21h00 | Bogatell Beach
The Mediterranean concert of local Catalan bands continue on Sunday with Dr. Prats at 21h00, followed by Els Catarres, and Gertrudis.
Liceu Orchestra and Choir Mercè concert | Sunday starting at 21h00 | Plaça Major de Nou Barris
La Mercè is nothing if not diverse, and on Sunday the Gran Teatre del Liceu Symphonic Orchestra and Choir bring classical music to those who wish to hear it free of charge, conducted by Josep Pons and including operas by composers such as Georges Bizet, Giuseppe Verdi, Charles Gounod, Richard Wagner and Alexander Borodin.
MONDAY MUSIC
BAM: La Bien Querida + La Estrella de David + La Plata + Hazte Lapón | Monday starting 15h30 | Antiga Fàbrica Estrella Damm
For one last jaunt of tunes before La Mercè ends in a dazzling display of fireworks, check out the unique venue Antiga Fàbrica Estrella Damm, with a wide range of pop music – perfect for ending four days of partying.