Health minister: restrictions to be tightened again 'no matter what'
Spain allows regional governments to reconsider Christmas loosening of measures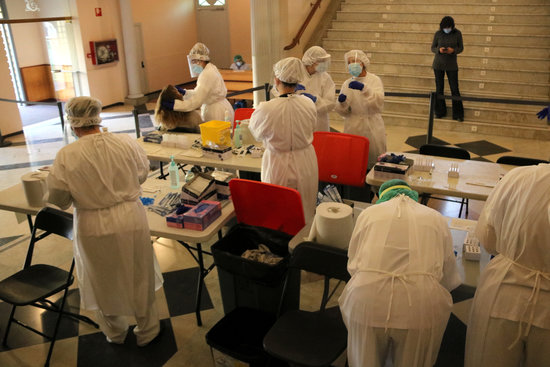 The Catalan health minister, Alba Vergés, said on Wednesday evening that restrictions will be tightened once again "no matter what" because the transmission rate remains above 1.
She did not specify what decisions will be made – they could be announced in the weekly press conference by health and interior departments' heads on Thursday –.
Yet, she insisted that the scheme to progressively reopen social life "is very clear" – the plan provides that if the transmission rate is above 1, "reviewing the measures taken is considered."
If this figure was between 0.9 and 1, the plan suggests staying in the same de-escalation phase, as it happened on December 7, when the country stayed in phase 1 instead of moving to phase 2.
If the Rt rate was below 0.9, a phase change would be considered. Yet, the fact is that as of December 16, this figure is at 1.22, and authorities might introduce changes in its calculation method that would see the transmission rate surge to between 1.45 and 1.50.
This indicator shows the number of people on average that every positive case transmits the virus to.
Christmas loosening might be reconsidered
On Wednesday evening, a meeting between the Spanish health ministry and all 17 regional health authorities, including Catalonia's, agreed to keep the door open to reconsidering the Christmas loosening of restrictions.
Spain's health minister, Salvador Illa, said that regions are no longer obliged to delay the curfew on Christmas Eve, New Year's Eve and the eve of the Three Kings Day. They can also be stricter in restricting the mobility those days if the health situation is unfavorable – within the limits established by the state of alarm in place.
Loosened holiday restrictions
Usually only up to 6 people are allowed to meet up, but on key dates over the holiday period, that is to say, December 24, 25, 26, and 31 as well as January 1, 5, and 6 this number is supposed to be increased to 10 under Catalonia's current 'Christmas Plan', which is now in question.
According to this plan, the curfew would be allowed to be delayed to 1:30 am rather than 10 pm on Christmas Eve and New Year's Eve.
Spain had banned travel between regions from December 23 to January 6 except to visit relatives – whether this exception will hold could also be discussed on Wednesday. Travel within Catalonia is set to be permitted on December 24, 25, 26, and 31 as well as January 1, 5, and 6 for holiday meals, but on other days it will depend on the de-escalation phase.
The Catalan government also announced that on December 24, 25, 26, and 31, as well as January 1, bars and restaurants would be able to have up to six people per table as opposed to four, which is currently the case. On Christmas Eve and New Year's Eve, they will be allowed to close by 1 am if the plan is not modified.