Government to allow bars and restaurants to serve on-site in evenings again from May 10
Measure affects both indoor and outdoor establishments as theme parks set to reopen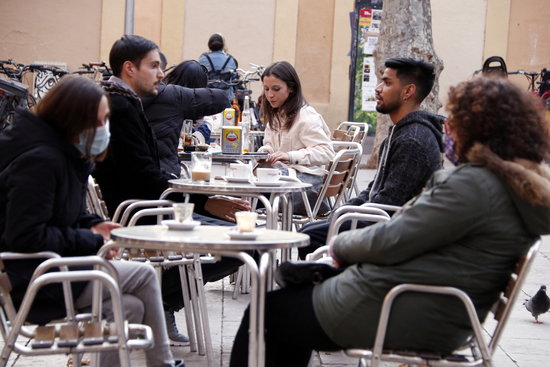 In the end, bars and restaurants will be able to serve on-site in the evening again from Sunday, May 9 at 12 am, not May 10. You can find our most recent article on the issue here.
The Catalan government is planning to allow indoor and outdoor on-site dinners in bars and restaurants again from May 9, the first day after the state of alarm comes to an end in Spain.
Such establishments have only been permitted to offer delivery and takeaway services in the evenings ever since December 21, 2020, after completely closing for most of spring 2020 and from October 16 to November 23, when on-site dinners were permitted for a month.
The cabinet confirmed the announcement of the easing of measures for bars and restaurants in a press conference on Friday afternoon, where it also explained that amusement parks will be allowed to operate from May 9.
The health and interior ministers also announced that most of the current general Covid-19 measures for one more week are extended for one more week.
Once the state of alarm comes to an end, any restriction launched by the Catalan government that infringes upon individual freedoms and liberties enshrined in the Spanish constitution will have to be greenlighted by the high court.
Thus, the executive is also preparing the legal framework to possibly extend certain measures such as the curfew from May 9, beyond the state of alarm.
Current Covid-19 measures
The Catalan government lifted the county lockdown and restored free mobility throughout Catalonia on Monday, April 26.
Also from Monday, bars and restaurants located inside of shopping malls can reopen from 7.30 am to 5 pm, just like the rest of cafes.
Current restrictions also include the curfew from 10 pm to 6 am, face masks, and closure of Catalan borders.
Shops and shopping malls can open at 30% capacity, while religious and cultural venues, at 50%.