Government not to introduce new legal framework to pass restrictions beyond May 9
Cabinet had considered strengthening legislation to avoid judicial blocks to potential new Covid-19 measures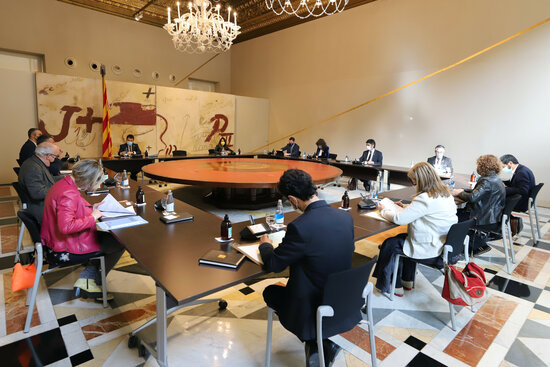 The Catalan government will not employ a new legal framework to introduce Covid-19 restrictions beyond May 9, as previously planned.
The end of the state of alarm this Sunday will mean that the Catalan government might no longer have the constitutional authority to pass the measures needed to contain the spread of the virus, because courts could reverse any laws which restrict the freedom of movement, such as the curfew, or controls over the size of gatherings.
In order to avoid potential blocks by the Catalan high court, the executive was working on creating a regulatory framework that would allow it to enforce its own measures beyond May 8 if deemed necessary.
Yet, the Catalan News Agency (ACN) found out that the cabinet now believes that strengthening legislation is no longer needed.
They say that a modification to the public health law was already introduced last summer in order to enforce a lockdown in the Segrià county via decree.
Yet, around the same time the regional court in Lleida ruled against the cabinet and overturned a decree imposing a new lockdown on the city, while accusing the regional executive of overstepping its authority.
Even in the event that the government did introduce a new legal framework to pass potential restrictions beyond May 9, any decision would still be subject to the judiciary's approval.
On Tuesday at 1 pm, the interim president, Pere Aragonès, and the cabinet spokesperson, Meritxell Budó, will appear before the media after the cabinet meeting.
Budó had suggested on Monday that the curfew would not be extended beyond May 8 – yet, shortly afterwards, her colleague, interior minister Miquel Sàmper, and a health department official, Marc Ramentol, said that the decision was still yet to be made.
Extending measures such as the curfew, putting a cap on the size of gatherings, and closing borders would need the judiciary's approval beyond May 8 because they are actions which go against fundamental rights.