Former Diplocat head denies international observers hired for referendum
Albert Royo says team of foreign experts was hired to write a report on Catalan-Spanish relations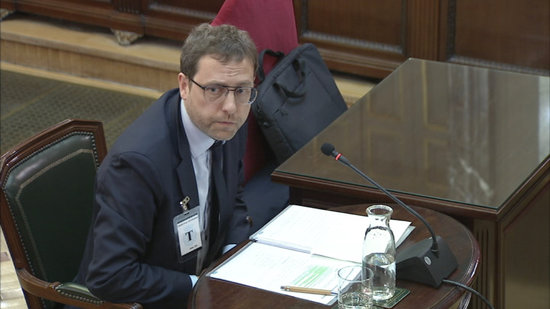 The Public Diplomacy Council of Catalonia (Diplocat) didn't hire any international observers for the independence referendum, according to its former secretary general Albert Royo, who gave his testimony in Spain's Supreme Court on Wednesday.
On day 15 of the Catalan independence trial, prosecutors tried to prove the accusations of misuse of public funds against former Catalan government officials, in the dock for calling a vote on independence despite Spain's opposition.
According to police reports, the Catalan administration paid €217,656 to a team of international experts to oversee the vote on October 1, 2017.
Summoned trial witnesses Paul Sinning and Helena Catt, two researchers who visited Catalonia during the referendum, notified they wouldn't be attending the afternoon session of the trial on Wednesday. Instead, they are expected to give their testimony on March 27.