Fira Barcelona will administer 6,000 Covid vaccine doses a day from Monday
Largest vaccination site in Catalonia is still far from reaching its full potential of 20,000 daily jabs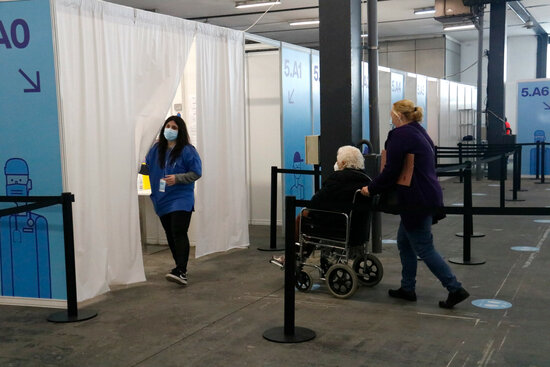 Fira Barcelona, the convention center turned mass coronavirus vaccination site, will increase the number of doses administered per day to 6,000 from next Monday.
"Today we've administered 3,750 vaccine doses. For now, there's only one vaccination area open. With more areas in operation, our maximum capacity would range from 80,000 to 120,000 vaccines per week," Marta Carrasco, who is responsible for citizen primary care attention at the Catalan Health Institute, said in an interview with Catalan News.
With the ability of giving 20,000 doses a day once all its plants are in operation, the Fira Barcelona vaccination center—Catalonia's largest—is still far from realizing its full potential only two weeks since it first opened.
In all, there are 500 vaccination sites spread across Catalonia, including primary care centers as well as middle- to large-sized venues set up to reach as many people as possible while respecting safety measures. They have the capacity to administer half a million doses a week.
This past week, the people being vaccinated at Fira Barcelona were between 70 and 79 years old, with more age groups soon to follow.
"I got the Pfizer vaccine. I feel really happy and relieved," says 70-year-old Begoña Martínez, right after getting her first dose on Friday. "I've lost many friends who didn't manage to get the vaccine, so I was afraid and really looking forward to getting the jab."
People book their appointments either through a text message or online. After entering, they go through the information points, where they show their code and are then given the number of their vaccination room. People have to wait 15 minutes after receiving the jab in case they have an adverse reaction, which nurses say is extremely rare. Completing the whole process takes less than half an hour.
In four months, over 26% of Catalonia's population has had one dose, while more than 12% have had two. By the end of summer, if vaccines keep on arriving and vaccination sites work as planned, 70% of residents are expected to be vaccinated.