Extended hours for bars, and county-level restrictions: Catalonia to loosen Covid measures
Catalan government confirms enhanced mobility and one more hour for breakfast and lunch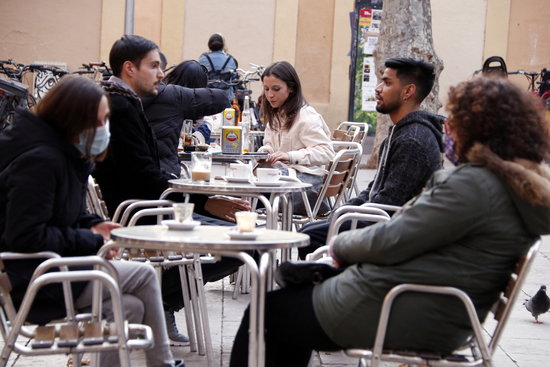 Covid-19 restrictions in Catalonia have been loosened slightly, though with most of the general measures still in place. Health authorities confirmed the changes in a press conference on Thursday and they will come into effect on Monday, February 8.
The restrictions on mobility have been opened up from local to county level, meaning that people can once again travel slightly beyond their municipal borders.
Bars, cafés, and restaurants will be able to serve customers on-site for one hour extra at breakfast and lunchtimes. This means that people will be able to sit at tables between 7:30-10:30 in the morning and 13:00-16:30 in the afternoon.
Dining in the evenings will remain banned, a measure adopted ahead of the Christmas holidays following a surge in coronavirus cases, although takeout and delivery services are still available.
People will be allowed to move freely within their county of residence, while up until now they couldn't leave their town, with exceptions for work, health reasons, or taking care of a dependent relative. During the ongoing election campaign, people are also allowed to move freely to attend political rallies.
Gyms will be able to reopen at 30% capacity.
Bookstores will also now fall under the category of cultural spaces, permitting them to open on weekends, as non-essential stores can only open during the week.
First-year university students can partially return to classes.
Catalan-level sports competitions which offer promotion to Spain-wide competitions can resume.
Health secretary-general Marc Ramentol explained that the measures in place for the past weeks have seen Catalonia pass the peak of the third wave of the pandemic.
Despite this, they warned that there were still three primary threats to public health: the new variants arriving from the UK and South Africa which appear to be much more contagious, the pressure on the health system, and the complications with vaccine deliveries and distribution, all of which are affecting the pandemic situation in a fundamental manner.
Additionally, other measures still remain in place, including the limit of only six people meeting together at any one time from a total of two social bubbles maximum. Safety distances and capacity limits for establishments are maintained.