Catalonia records new highest daily coronavirus cases in five months
Outbreak risk has doubled in less than two weeks but number of patients in intensive care has decreased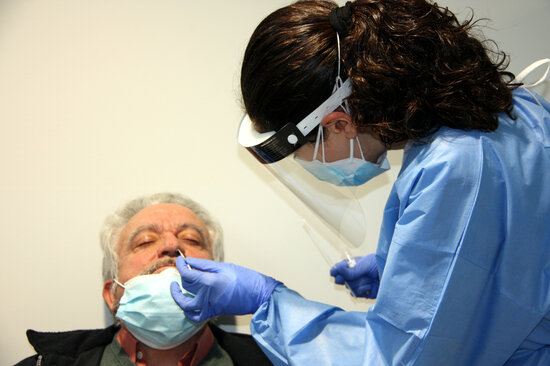 Various key pandemic indicators continue to worsen in Catalonia, as the latest update provided on Wednesday saw the highest number of recorded positive cases since January 27.
A total of 3,410 more people have tested positive from either PCR or antigen tests, the highest number seen in five months.
This comes after Tuesday's update which saw the highest number of new coronavirus cases seen since February.
Elsewhere, the outbreak risk has now risen to 164, up from 79 recorded on June 18. This indicator is calculated by multiplying the average spread of the virus over the past seven days by the cumulative incidence over the past two weeks, and is considered to be low at 30, moderate at 70 and high at 100.
Likewise, the transmission rate has seen a similar spike. On June 8 and 9 it remained stable at an average of 0.90 infections per positive case, but now this figure has risen steadily and now stands at 1.42.
However, the number of patients in intensive care in Catalonia is lowering during this same time period, following a positive trend ever since April.
On April 12, there were a total of 518 patients in ICU beds with Covid-19, but this has now gradually dropped to 129 in the last update.
Vaccination rollout
The number of patients hospitalized overall remains relatively stable over the past ten days, as the figure is now 458.
As of June 29, 2021, 4,118,125 residents have been given the first dose of the vaccine, 52.5% of the total population.
Out of those, 2,541,000 have also been administered a second dose (32.4% of the total population). 2,816,724 residents are considered to be fully immunized (35.9%).
Under 65s who have already had the virus are only required to have the first dose, and others have received a single-dose jab. Therefore, the % of two doses administered and % fully immunized do not match.
End-of-year trips
The number of Catalan students who have caught Covid-19 on end-of-year trips has now increased to 587.
Yesterday, the count was at 353.
In Menorca, the number of cases has now doubled for the second consecutive day.
Stricter measures ruled out
Catalonia's health minister, Josep Maria Argimon, has ruled out reversing some of the reopening measures that the country has undergone over the past few weeks and months.
Most recently, the cap on social gatherings was lifted, nightlife was permitted to return under some conditions, and local street parties known as 'festas majors' were permitted to go ahead, including even setting up marquees at them.
Argimon also hopes that stricter Covid-19 measures will not have to be introduced in the future, despite the increase in cases.
The health official justified his position arguing that the rise in new cases has not so far translated into more hospital admissions.
However, he also warned that the pandemic situation is "worrying" and the increase in cases may affect the vaccination process.