Catalan vice president among political figures due to testify in Supreme Court
Week 11 of trial of independence leaders begins on Tuesday with focus on events surrounding Spanish police raids on September 20, 2017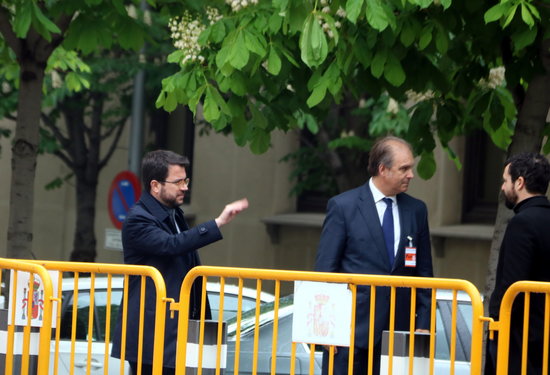 Catalonia's vice president, Pere Aragonès, along with former ministers during the lead-up to the 2017 independence bid are set to testify in the trial of Catalan leaders, as week 11 of the case in the Supreme Court resumed on Tuesday.
After days of testimony from police officers involved in the crackdown of the October 1 referendum, the focus of the trial returns to political figures with, apart from Aragonès, former ministers Jordi Jané, Meritxell Ruiz, Neus Munté and Jordi Baiget due to take the stand.
Also set to testify this week will be foreign minister Alfred Bosch, former Catalan police head Albert Batlle, former head of the Association of Municipalities for Independence (AMI) Neus Lloveras, and the spokesman for the National Pact for the Referendum, Joan Ignasi Elena.
Some of the first witnesses to appear in the trial were political figures, such as former Spanish president Mariano Rajoy, his former deputy Soraya Sáenz de Santamaría, former Catalan president Artur Mas, and Basque Country president Íñigo Urkullu.
Spanish interior minister at the time of the independence bid, Juan Ignacio Zoido, and the former Spanish government delegate to Catalonia, Enric Millo, have also taken the stand, with the trial's return to politics coming as the general election approaches on Sunday.
Focus on events in September 2017
However, the two score witnesses due to testify between Tuesday and Thursday will be primarily asked about the events in the run-up to the referendum, particularly about the protests in response to Spanish police raids on September 20, 2017.
Such is the case of Jané, Ruiz, Munté and Baiget, who all left the government in July 2017 as preparations gathered pace for the vote declared illegal by the courts. Yet, the superintendent of the Catalan police at the time, Teresa Laplana, will not appear, as she is involved in a related but separate case in Spain's National high court.