Catalan officials kick off witnesses testimonies in independence trial
Judge vetoes use of Catalan in court by Esquerra MP Joan Tardà, who justifies protests and rejects "any use of violence" for political purposes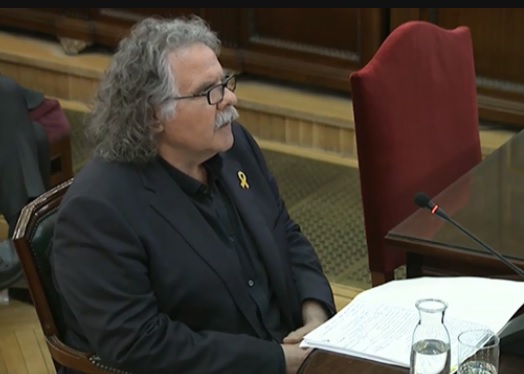 Witnesses began giving testimony in the trial of the Catalan independence leaders in Spain's Supreme Court on Wednesday, after the last of the defendants testified on Tuesday.
The Esquerra Republicana MP in the Spanish Congress, Joan Tardà, was the first to take the stand, although his attempt to speak in Catalan was overruled by the judge, who said he should have previously requested it.
Continuing in Spanish, Tardà denied that protests were a way to "coerce the state," arguing: "It is a way to move social ideas forward within the democratic framework and regimen of freedoms."
September 20 rally "spontaneous" and "not violent"
Tardà went on to tell the prosecution that the protests against Spanish police raids on Catalan government buildings on September 20 felt "spontaneous" and were by no means "violent."
In fact, the MP rejected any use of violence for political purposes, saying: "Neither Spain's unity nor Catalonia's independence are worth a minimum degree of violence."