April marks month with lowest number of Covid-19 deaths since September
518 people lost their lives due to the pandemic in Catalonia, a figure only comparable to summer 2020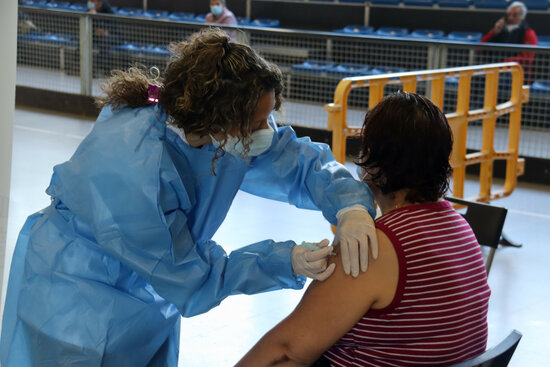 The progress in Covid-19 vaccinations and the stabilization of the pandemic is leading to a significant decrease in the number of deaths.
A Catalan News data analysis stemming from the official figures published every day by the Catalan government shows that April 2021 was the month with the fewest deaths caused by the pandemic since September 2020, after a summer when the disease was largely under control.
Indeed, in April 2021, 518 passed away after having the virus, 81 fewer than in March and at least half the amount that was seen during the previous few months.
These numbers are only worse than those recorded for June (195), July (179), August (296) and September (364) last year, although across all of 2020's four summer months the amount of cases counted was lower than that seen this April.
The fourth month of 2021 also resulted being the lowest regarding the number of deaths compared to the number of people transmitting the virus – although, in relation to this figure, the fact that some individuals who passed away in April developed the disease in prior months needs to be taken into account.
In April, 518 deaths represented 1.09% of the 47,561 people who tested positive for Covid-19 – this was lower than the percentage calculated for March (1.45%), February (2.49%) and January (2.08%), and only higher than the same period between July and October 2020.
The average mortality rate for the whole pandemic in Catalonia is 3.35% (21,901 out of 653,486 as of May 2), which falls to 2.4% if the way the Spanish government counts deaths is employed, the State registering 8,000 fewer deaths than Catalan cabinet.
Vaccines and the elderly
The vaccine rollout began on December 27, 2020, and as of May 2, 2021, most elderly people have already been vaccinated. For instance, 93.5% of care home residents are fully immunized, as well as 84.3% of those above 80 who live at home, as exactly two thirds of those between 70 and 79 have now received at least one dose.
This has had a direct impact on the mortality among the elderly people, who have stood for over 80% of the deaths throughout the health crisis (the average being 81%), but April marked the second-lowest representation in deaths since the beginning of the crisis, 74.1%, only slightly higher than in March 2021 (73.7%).