70 to 79 year olds to be vaccinated from April 12, estimates government
Over one million residents have received at least one dose, as rollout for ages 60 to 65 continues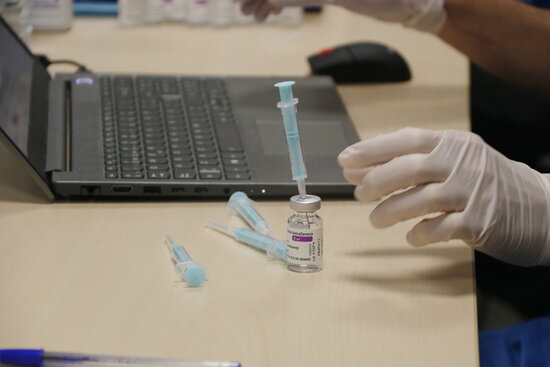 People aged 70 to 79 will be vaccinated from April 12, according to the latest government estimations, which also expect for the rollout on over 80s to come to an end this week (as of April 5, 64.1% of those falling into this group have received at least one dose.)
The health department believes that the campaign for those in their 70s will be slower than that affecting octogenarians.
On Sunday, health minister Alba Vergés said that it will last "several weeks."
Indeed, she also expressed that Catalonia will only have a percentage of people inoculated enough for a "change of scenario in the country" by the end of summer – her department still aims to have vaccinated 70% of Catalans by that time.
She made these remarks in University of Barcelona's Faculty of Geography and History, acting as an administration site, as Catalonia surpassed a million residents with at least one dose (1,022,501 as of April 5), which means 13.24% of its population – 443,580 of them have already been given both doses.
Vaccine rollout to speed up
Authorities expect that the rollout speeds up in April, since the pace of jabs shipped will increase – for instance, 193,050 doses of the Pfizer Covid-19 vaccine were delivered on Monday, which will help the vaccination of the remaining over 80s.
Last Friday, 168,000 doses of the AstraZeneca jab began to arrive, some of which will be used for first doses for those aged between 60 and 65 – the rest will begin to be used on April 25 for second doses of the same group.
At the moment, 29.9% of residents falling in this group have already been vaccinated.
After the arrival of the latest AstraZeneca doses, 110,000 further appointments for 60-65s were enabled, and on Sunday 4,000 were still available.
In the coming weeks, the Catalan government will launch their mass vaccination plan, including 500 sites and a pace of up to half a million doses per week – yet, this will come with a delay, after the AstraZeneca doses due to arrive last week were delayed.